Back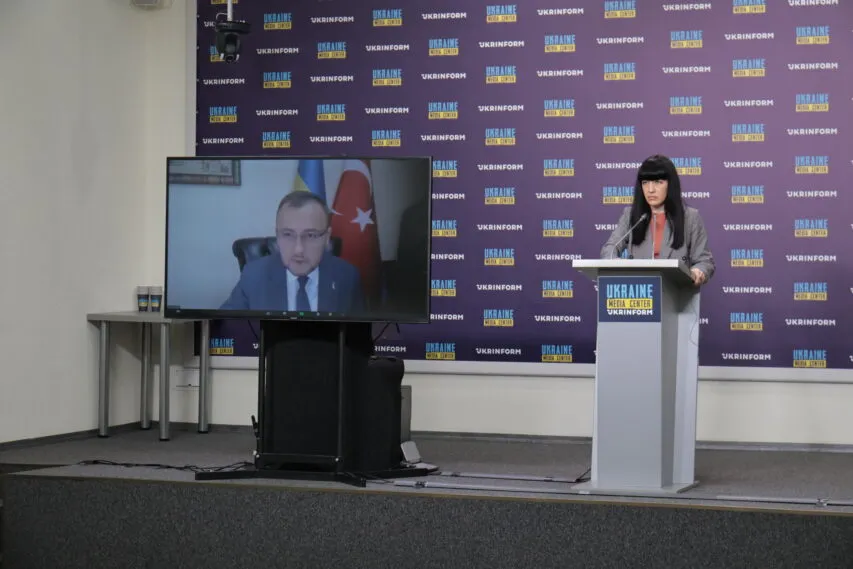 Vasyl Bodnar, Ukraine's Ambassador Extraordinary, and Plenipotentiary to Türkiye, Media Center Ukraine – Ukrinform.
April 21, 2023, 14:18
Due to Russia's blockade, Ukraine couldn't export about 18 million tons of farm produce – Vasyl Bodnar
"As confirmed by our Oleksandr Kubrakov, Deputy Prime Minister for Restoration of Ukraine, since November 2022, actions of the Russian side made it impossible for us to export about 15-18 million tons of Ukrainian agricultural products. All this occurred due to the blocking or slowing down of ships inspections that passed through the Bosporus and the Dardanelles and had to get to Ukrainian ports for loading," Vasyl Bodnar, Ukraine's Ambassador Extraordinary, and Plenipotentiary to Türkiye stated this on during a briefing at Media Center Ukraine – Ukrinform.
He noted that in recent days, Russia has been trying to use its presence in the Joint Coordination Centre within the framework of the Grain Deal.
In particular, he said, this is actually being done "to regulate the work of Ukrainian ports and interfere in commercial agreements concluded between Ukrainian producers and those selling and buying grain companies."
"On April 17-18, inspections of ships stationed in the ship service area were actually blocked. And there was a big issue given that the Russians were trying to impose their list of ships. It is the next level of cynicism to prevent the normal functioning of the initiative itself," emphasized Vasyl Bodnar.
In addition, he noted that to resolve the issue, on April 18, Deputy Prime Minister Oleksandr Kubrakov visited Türkiye and held talks with Hulusi Akar
Minister of National Defense of Türkiye, who is in charge of the Black Sea Grain Initiative on the Turkish side.
"An agreement was reached, and a mechanism was developed to resume registration and inspection of ships arriving to load Ukrainian grain. Of course, we do not expect that the Russians will fully open the possibility of passage of these ships, as this initiative is extremely uninteresting to them. They are trying to push through their proposals, in particular, to export various kinds of their mineral fertilizers and to prevent Ukrainian grain from entering international markets in full," the diplomat said.
As of now, Vasyl Bodnar said, the ships are leaving the ports, but there are still questions about inspections.
"Yesterday and today, a total of two vessels were approved for entry and two for an exit, with the possibility of doing more than ten. This indicates a deliberate blocking and continuation of the destructive policy."
Read more: https://mediacenter.org.ua/news