Back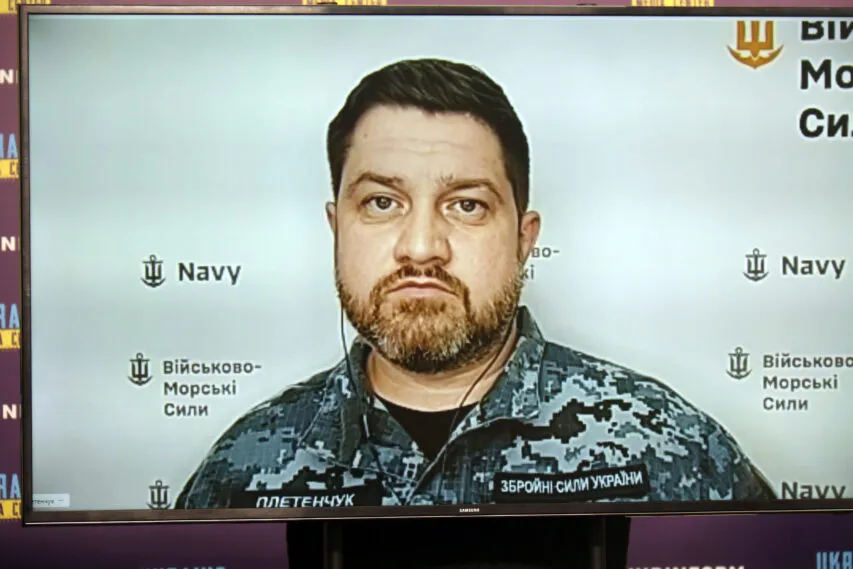 September 7, 2023, 14:51
Dmytro Pletenchuk: 6 boats and 5 Russia's FSB ships stand on the Kerch Bridge protection 
There are currently 11 enemy ships in the Black Sea, including one carrier with a total volley of up to 8 missiles. Another vessel is in the Sea of Azov. At the same time, there is a large grouping of border guards around the Kerch Strait Bridge, where the occupiers are trying to defend the illegal construction, including 6 boats and 5 Russia's FSB ships.
It was reported by Dmytro Pletenchuk, Spokesman for the Ukrainian Navy, at a briefing at the Media Center Ukraine – Ukrinform.
" A string of 6 boats, 5 ships of the Russia's Federal Security Service (FSB). Most of them are south of the bridge, and some of them are north of the bridge. And in this way, they are now fulfilling the task of protecting and defending this facility," he noted.
Commenting on the work of maritime drones, Pletenchuk emphasized: "There are no sea barriers that we cannot overcome. Therefore, we will continue to do our job accordingly," said the Ukrainian Navy spokesman.
In addition, Dmytro Pletenchuk explained that the occupiers would not be able to enforce a complete naval blockade of the approaches to the Crimean Bridge.
"As for the blocking of these particular structures, yes, they are trying to block the most dangerous section, in their opinion. However, it should be recalled that this bridge is quite large, 19 kilometers long. And besides, they cannot use a complete blockade to prevent Ukrainian shipments maritime navigation to the bridge because then they would turn the Sea of Azov into a lake. Accordingly, it brings no good, as otherwise, they will continue to logistically link the temporarily occupied ports of Berdiansk and Mariupol, which they use for logistical purposes to support their group, and to continue to plunder the temporarily occupied territories of Zaporizhia and Donetsk regions, taking out grain and metal residues through these ports, as we understand it. That's why there is still a rather large gap, first of all. Secondly, we will see how it works later," he said.
Read more: https://mediacenter.org.ua/news