Back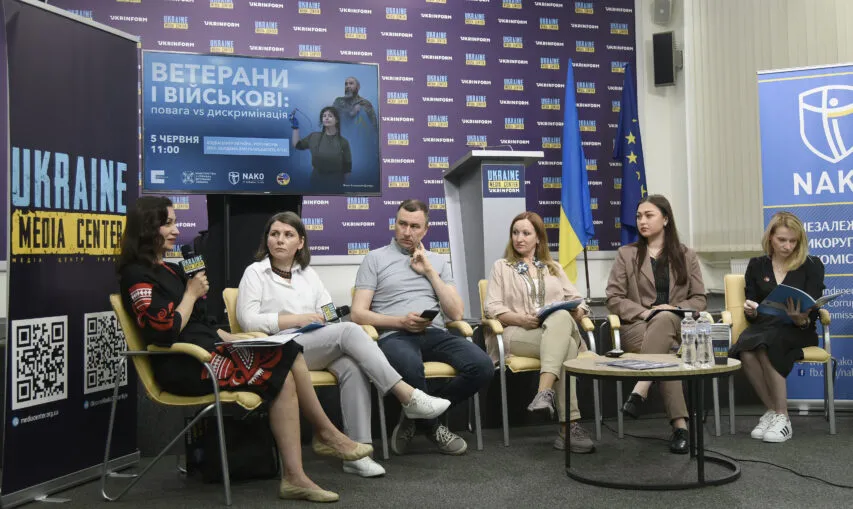 June 5, 2023, 15:42
"Discrimination against different social groups in the Armed Forces of Ukraine: views of Military and Civilians" – survey data
Ukrainian Veterans Fund of the Ministry of Veterans Affairs of Ukraine together with the Independent Anti-Corruption Commission (NAKO) and the sociological group "Rating" presented the study entitled " Discrimination against different social groups in the Armed Forces of Ukraine: views of Military and Civilians" at Media Center Ukraine – Ukrinform.
"The study consisted of two parts. This was a nationwide survey conducted in March. We simply asked citizens about their attitude to discrimination, which groups can be discriminated against, how they see this problem in general. The second part of the study was directly related to conversations with those who know about this problem, namely with military personnel," explained Liubomyr Mysiv, Deputy Director of Sociological Group "Rating."
According to the study, there is a difference in the perception of certain categories of people in general society and in Ukraine's Armed Forces. And the most sensitive topic, noted Liubomyr Mysiv, is the LGBT.
"It is clear that the LGBT topic is the most sensitive, because society's attitude towards it is now more neutral and positive, negativity is decreasing, but still there hasn't been such a drastic change that we would like to see. It will take time. If you add the phrase 'Ukraine's Armed Forces' of course, the attitude changes, because the attitude in the society towards anyone, who serves (in the military – Ed.) today, is positive. Regardless of their orientation, nationality, gender, views, and what they eat," he added.
At the same time, the issue of discrimination within the ranks of the Armed Forces themselves depends very much on the commander, Mysiv said.
"At all levels, in relation to discrimination, whether it concerns women, or representatives of the LGBT community, or representatives of prisoners – everything indicates that it depends very much on the commander. Commander's views influence the attitude within the unit. Therefore, this is an important issue. The main focus of work in the future should be aimed at this category. It depends on how the commander can set up communication within the unit and set up communication in general within a structure, as well as some principles of working with the people who may be discriminated against."
Read more: https://mediacenter.org.ua/news