Back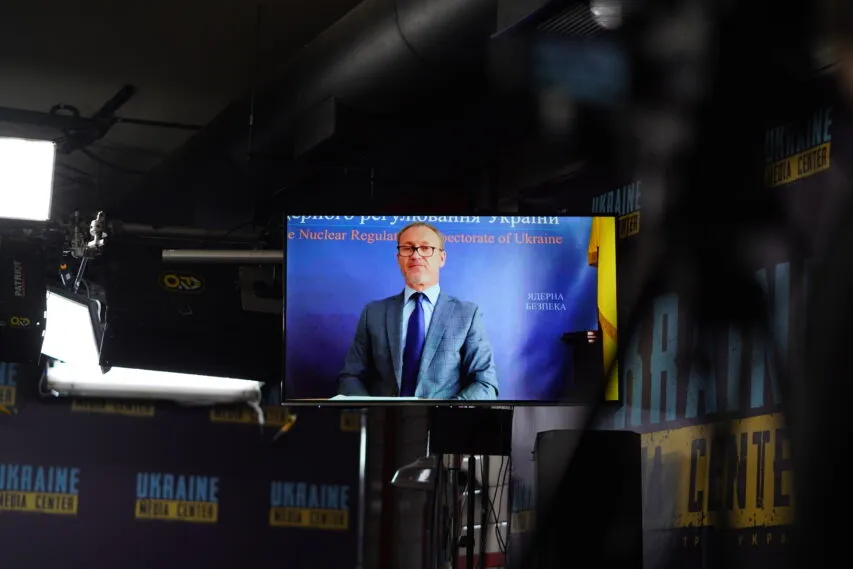 Oleh Korikov, Acting Chairman — Chief State Inspector for Nuclear and Radiation Safety of Ukraine, Media Center Ukraine
September 7, 2022, 13:48
"Deterioration of the Situation with Power Supply to the Zaporizhia Nuclear Power Plant Can Result in an Accident and Radiation Release," Acting Chief Inspector for Nuclear Safety
The deterioration of the situation with the power supply to the Zaporizhia Nuclear Power Plant can cause an accident at the facility. Oleh Korikov, Acting Chairman – Chief State Inspector for Nuclear and Radiation Safety of Ukraine, stated this during his briefing at Media Center Ukraine. According to him, the ZNPP lost its external power supply connection to Ukraine's grid and has to generate electricity for the balance-of-plant needs on its own.
"However, the continued deterioration of the situation, the prolonged lack of power supply from an external source of electricity will force us to deploy standby diesel generators, and it is extremely difficult to top up the diesel fuel supply during the war. Four huge diesel fuel tanks are needed per day. Potentially, we can find ourselves in a situation with no diesel fuel; it can give rise to an accident damaging the active zone of reactors and releasing radioactive products into the environment. It will not only affect the territory of Ukraine but also produce cross-border effects," Oleh Korikov stated.
Thus, according to the Acting Chief State Inspector for Nuclear and Radiation Safety, the ZNPP needs to be demilitarized and de-occupied, with the power supply restored and diesel fuel topped up. Further actions are needed to revert the plant into a safe condition. According to Oleh Korikov, Ukraine is considering the option of shutting down the Zaporizhia Nuclear Power Plant.
"If conditions requiring the plant to be shut down arise, the plant and power unit No. 6 will be shut down," the Acting Chief State Inspector for Nuclear and Radiation Safety explained. According to earlier reports, the International Atomic Energy Agency published a report on their September 1 visit to Zaporizhia Nuclear Power Plant. The document provides details of IAEA's work in Ukraine from April 28 to September 05. The report's bulk and biggest section are dedicated to the situation at Zaporizhia Power Plant. The IAEA indicates that all Seven Pillars of nuclear safety have been compromised since the commencement of the plant's occupation by russians, with the physical integrity violated, the operability of safety and security systems disturbed, the complicated working conditions created for the operating staff, the damaged off-site sources of power supply, the complications in supply chains, the problematic operation of the planned radiation monitoring systems and emergency preparedness measures on-site, and problems with support.
Read more: https://mediacenter.org.ua/news