Back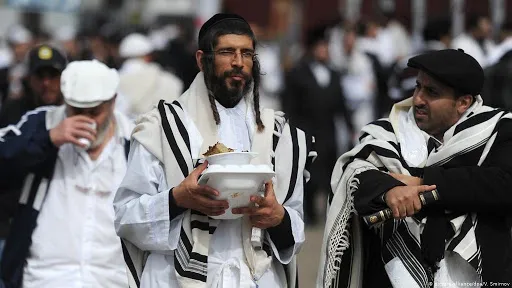 Фото: ck-oda.gov.ua
September 5, 2022, 11:59
"Despite the War, 1,100 Hasidim Have Already Come to Uman to Celebrate Rosh HaShanah," Head of Cherkasy Oblast Military Administration
1,100 pilgrims have already arrived in Cherkasy Oblast to celebrate Rosh HaShanah, the Jewish New Year. Even more Hasidim pilgrims are expected to arrive by September 18–19. Ihor Taburets, Head of Cherkasy Oblast Military Administration, reported this at his press briefing in Ukraine Media Center.
"I expect that fewer pilgrims will come here this year, but we expect up to 10,000 people to arrive anyway," Ihor Taburets said.
Also, the Head of Cherkasy Oblast Military Administration indicated that large crowds could become targets for missile or terrorist attacks. Therefore, the local government will impose extra restrictions on pilgrims during the curfew.
"We will register everyone; we will prohibit moving around the city by car or by foot. Extra checkpoints will be organized in some streets. Counterintelligence and anti-terrorist measures have already started and will proceed on an ongoing basis. As regards some trade activities that we have always tolerated earlier, with lots of people, including locals, gathering in huge crowds, we are going to prohibit events like this; we will try to keep an eye on the number of pilgrims who congregate in the same place to make sure that no large crowds are formed," Ihor Taburets explained.
On the first day of their full-scale invasion of Ukraine, russian forces carried out a missile attack targeting Uman city center.
A while back, the Ministry of Foreign Affairs of Ukraine asked Hasidim to refrain from the pilgrimage to Uman this year.
Read more: https://mediacenter.org.ua/news