Back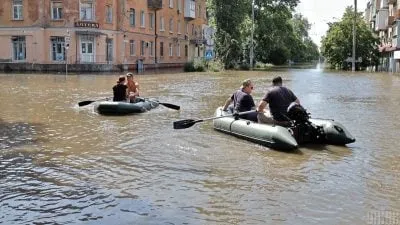 June 12, 2023, 17:32
Despite downpours, water already leaving Kherson – Oleksandr Tolokonnikov
Kherson's Korabelna Square is already free of water, and the liquidation of the consequences of the flood caused by the blowing up of the Kakhovka HPP has been scheduled for the near future.
Oleksandr Tolokonnikov, Spokesman for the Kherson Oblast Military Administration made this statement during a briefing at Media Center Ukraine – Ukrinform.
"The water is receding, despite the heavy rains yesterday. Now the level is already at 3 m 11 cm. Korabelna Square is already free of water, the water is receding. In the near future we will eliminate the consequences of this terror attack that caused this flood," he said.
In some districts, according to Oleksandr Tolokonnikov, the workers have already started pumping water from areas with motorized pumps, in order to continue pumping water from flooded houses.
"Motor pumps are just starting to work. Motor pumps are now working in Chornobaivka, to pump water from (civilians' – Ed.) exterior property. First of all, the water must be pumped from the exterior property so that it can start to leave the houses. Therefore, motor pumps delivered by our partners and our volunteers are already working," he explained.
At the same time, Oleksandr Tolokonnikov reported that as of now more than 2,700 people have been evacuated from Kherson region.
"The evacuation operation continues, we continue to persuade some people to leave their homes. But the urgent part of the evacuation is almost completed."
Read more: https://mediacenter.org.ua/news