Back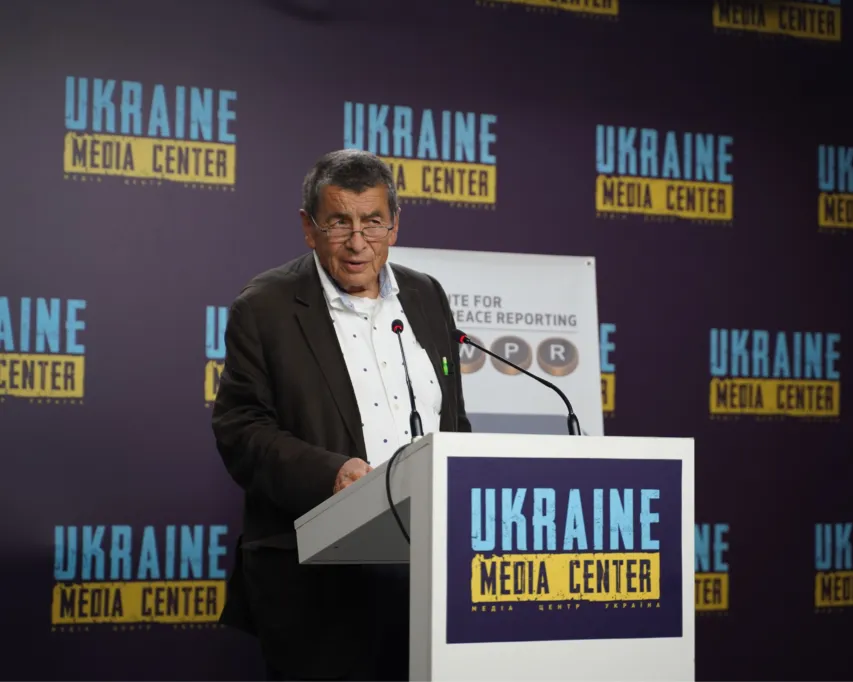 August 15, 2022, 13:44
"Depending on the outcome of this war, other wars may be deterred, may be stopped," Prosecutor in Milošević trial, Geoffrey Nice
Depending on the outcome of the war in Ukraine, other military conflicts in the world may be deterred or stopped. Geoffrey Nice, a British barrister who worked at the International Tribunal for the former Yugoslavia and was a prosecutor in the trial of the former president of Serbia, Slobodan Milošević stated this opinion at a briefing at Media Center Ukraine. On August 15, the barrister began his visit to Ukraine.
The following are the most interesting quotes that Geoffrey Nice said at Media Center Ukraine.
On the future influence of the outcome of the war in Ukraine on the world history:
"This is the most serious war in Europe since World War II. Depending on the outcome of this war, other wars may be deterred, may be stopped. Something that has been overlooked time and again is the importance of brining the leader and his cohort to justice"
On the importance of bringing the leaders of the russian federation to justice:
"There may be several tribunals – the International Criminal Court, the International Court of Justice dealing with the alleged breaches of the Genocide Convention and there's your own internal trial process… As to the evidence, there are stacks of it. I think it's probably obvious who must be punished first. Unless you have a process, whereby it is a priority of the international community to bring leaders to justice then you're doing nothing to stop the next one doing a similar or the same thing. "
On the role of the media in bringing international criminals to justice and in shaping attitudes towards war among the international community:
"The role of the media is critical. The media's problem is audience fatigue, readership fatigue, viewer fatigue. One of the problems is the more you put on screen pictures of really terrible things, the more the ordinary viewer ceases to understand quite how serious it is. And so, their attention declines. Their shock declines. Therefore, when it comes to electing politicians, they may make different decisions whether to support Ukraine or not. Their view of the conflict becomes less important in the overall democratic process. Journalists have got to move from direct reportage to explaining quite how big the risk is. The job of you, the media, is the really difficult one of expanding to reportage to grab and shape the understanding of the audience as to gravity of the present situation. "
Geoffrey Nice has been practicing law since 1971. He served at the International Tribunal for the Former Yugoslavia (ICTY) from 1998 to 2006 and was a prosecutor in the trial of Slobodan Milošević, the former president of Serbia.
Ever since, a large part of his work focused on cases of the permanent international criminal court (on Sudan, Kenya, Libya) or pro bono class action lawsuits in the countries (Iran, Burma, North Korea), the cases from which cannot reach any international court. The Times described Sir Geoffrey as one of the leading lawyers of his generation.
Read more: https://mediacenter.org.ua/news