Back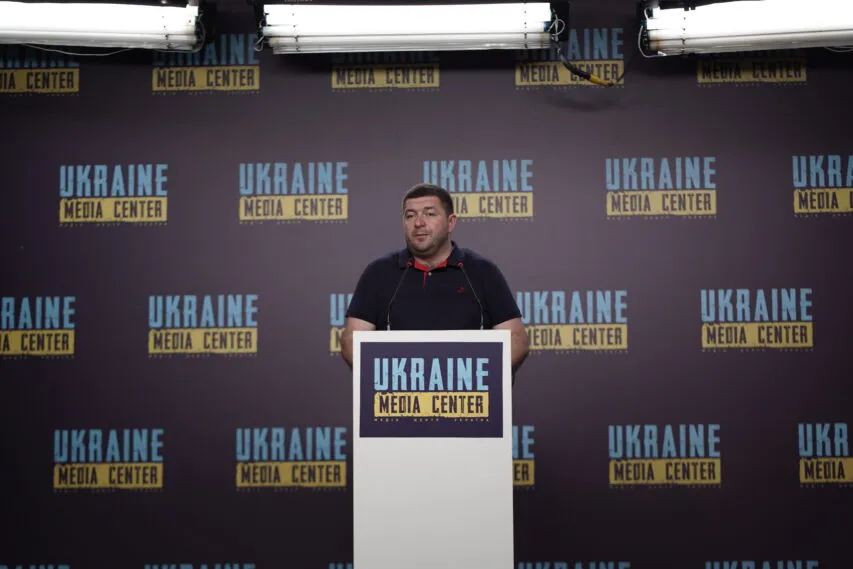 Юрій Бучко, заступник голови Львівської обласної військової адміністрації у Медіацентрі Україна, 5 липня
July 5, 2022, 13:45
"Defusing Situation on the Border: Krakivets – Korczowa Checkpoint Increases Its Throughput by 40%," Deputy Head of Lviv Oblast Military Administration
The expansion of the Krakivets – Korczowa checkpoint on the Polish border added 40% to its throughput. Yurii Buchko, Deputy Head of Lviv Oblast Military Administration, disclosed this information at his press briefing in Ukraine Media Center.
"Two weeks ago, we, together with the customs service, expanded the Krakivets border checkpoint. We moved passenger cars to the right toward the A 4 highway so the cargo traffic moves on the left without interfering with the passenger traffic. What did we achieve? We increased the throughput by 40%," Yurii Buchko told.
According to him, a new bus terminal is being built at the same checkpoint. The Road Service is also working on a temporary parking lot.
"It is a dedicated waiting area for 300 to 400 vehicles to avoid vehicle crowding on the road. The current situation creates discomfort – there are only two lanes, with one constantly occupied by trucks. So, there will be a dedicated waiting area. The situation in Shehyni and Rava-Ruska is the same. We are going to add more capacity there, and we are working on the third lanes there," Yurii Buchko said.
The authorities are working on developing infrastructure toward Nyzhankovychi, a town on the border, where another checkpoint will be set up.
"The construction work on the site is being done on the Polish side for the checkpoint. Poland promises to open it by 2024. Accordingly, we have to build the road. The road construction is ongoing; the project was built by Drohbud and funded by Poland. They build engineering structures; the road from Sambir to Dobromyl has been repaired, with one section to Nyzhankovychi remaining. We plan to open a temporary checkpoint there, like the one in Krakivets," Yurii Buchko said.
Lviv Oblast Military Administration also plans to restore the rail track from Przemysl in Poland to Khyriv in Ukraine to reduce the workload on the border.
Read more: https://mediacenter.org.ua/news