Back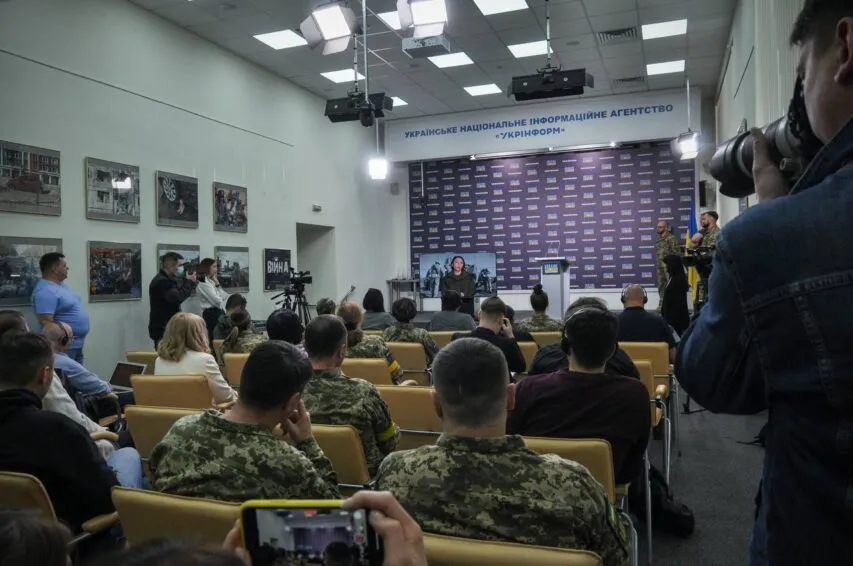 May 24, 2022, 14:33
Defense Ministry launches education project on rules of warfare upheld by Ukrainian army
The full-scale aggression by russia has shown that russia completely disregards the rules of warfare.
Therefore, the Ministry of Defense is launching a series of programs on the rules of international humanitarian law for the military. The Ministry of Defense is convinced that compliance with these rules makes our army not only strong but also civilized. The project will take place over the next 2.5 months.
The presentation of the education project took place on May 24 in Media Center Ukraine — Ukrinform.
Andriy Ostrovsky, Head of Strategic Communications Department at the office of Commander-in-Chief of the Armed Forces of Ukraine said that by waging war against Ukraine, russia has been committing actions that are unjustifiable, neither from military nor moral point of view. All these crimes do not have statute of limitations, and there is no amnesty for them.
"We want to draw the attention of the international community to russia's cynical and systematic violation of the norms of international law and human morality. The russian criminals must be punished. Therefore, this project is designed to enact the rules of international law and provide the necessary basic knowledge, not only to the military of the Ukrainian Armed Forces, but also to the civil society. A clear understanding of these rules allows for a correct interpretation of the enemy's actions. In addition to the demonstration of video materials, our project involves a broad discussion of the specifics of the application of international humanitarian law. We also plan to hold a full cycle of classes for the soldiers of the Armed Forces of Ukraine, create a series of programs on "Army FM" radio station, and show our activities to an international audience, " — he said.
Viacheslav Rayevskiy, a representative of the Strategic Communications Department, explained that the training project will consist of 20 videos outlining the basic rules of warfare and international humanitarian law. Each video will cover a separate issue. The most complex rules will be divided into several videos. Each video will contain a theoretical and expert part. Videos will be in free access. The first video will be posted today.
In turn, Spokesperson of the Ministry of Defense of Ukraine Oleksandr Motuzianyk noted that one of the characteristics of a European country is compliance with international law. Since the first day of the war, the Ukrainian army has complied with all the norms of the Geneva Conventions. The russian horde, however, has ignored them in every possible way.
For the Ukrainian Armed Forces, international humanitarian law is not something new. Back in 2017, the Ministry of Defense approved an order that enacted all the rules of international law and all four Geneva Conventions in the Ukrainian army.
Read more: https://mediacenter.org.ua/news