Back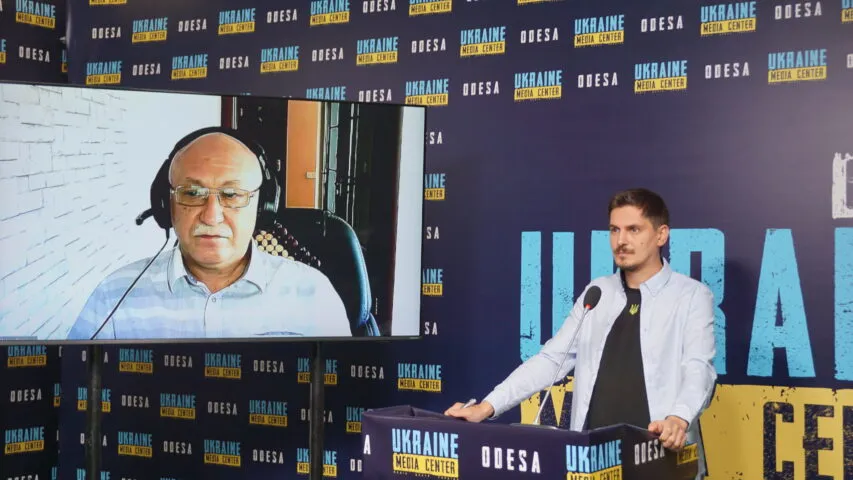 Photo by Media Center Ukraine – Odesa: Pavlo Lakiychuk, head of security programs at the center for global studies "Strategy XXI"
September 19, 2023, 15:33
Crimea is a very inconvenient logistics hub for russian troops – military expert
And Ukraine's defense forces should take advantage of this to ease the conditions for a counteroffensive in the south. This opinion was expressed by Pavlo Lakiychuk, head of security programs at the center for global studies "Strategy XXI", at a briefing at the Media Center Ukraine – Odesa.
"Russians have now realized that Crimea is a very inconvenient logistics hub. In order to supply the enemy units fighting in southern Ukraine with ammunition and fuel and lubricants, they have to bring everything through the Kuban. Then through the Kerch bridge, through the whole of Crimea, then again through the bridges, through Chongar… The task of our defense forces is to attack constantly so that as little cargo and people as possible can reach their destinations," – Pavlo Lakiychuk noted.
He added that by conducting constant strikes in Crimea, the Ukrainian defense forces are solving several tasks at once.
"The first goal is to secure the operation of Ukrainian transport corridors and create the possibility of export-import operations in our ports. The second is to protect Ukraine's infrastructure from enemy missile and bomb attacks. And the third is to create the preconditions for an offensive by Ukrainian ground forces in the south. To liberate our south, we need to destroy the enemy's military infrastructure in the deep rear," – the expert emphasized.
Read more: https://mediacenter.org.ua/news