Back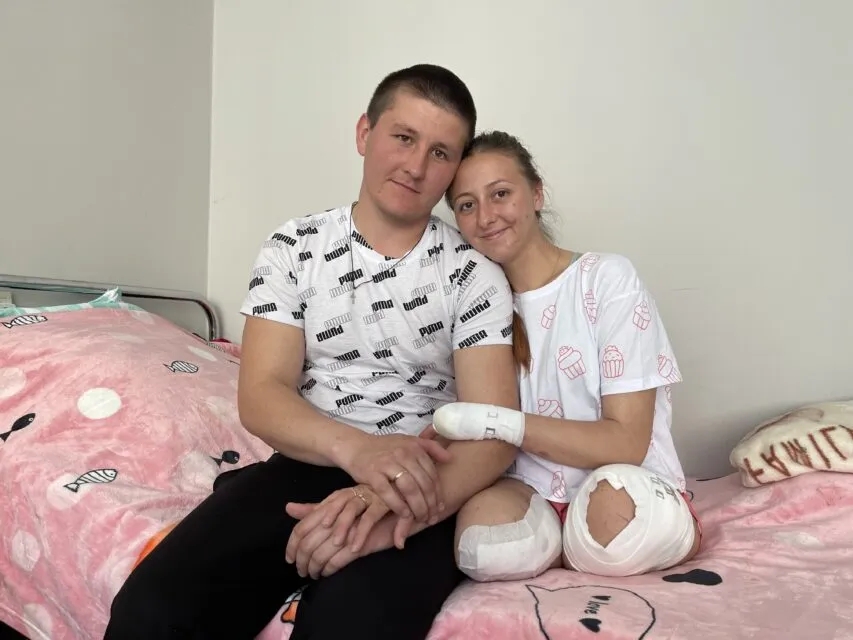 May 3, 2022, 14:36
Couple from Lysychansk gets married in Lviv hospital
«Life shouldn't be postponed» is the belief shared by Oksana and Viktor, who got married in a Lviv hospital ward. This is where the young woman is undergoing treatment and rehabilitation due to a severe injury. According to Lviv's First Medical Association, a 23-year-old nurse from Lysychansk lost her legs at the end of March. The woman turned around to warn her beloved about the danger a second before a landmine blew up near her. The tragedy took place on March 27. Oksana and Viktor took a familiar route home. She was walking in front, and he was behind her. As the result of the explosion, Viktor was lucky to remain unharmed, but the mine took both Oksana's legs and four fingers on her left hand.
The woman received first aid at Lysychansk hospital, where she also had four surgeries. Then Oksana was evacuated to Dnipro, where her wounds were being treated and prepared for prosthetics. A week ago she came to Lviv by evacuation train. She will undergo rehabilitation and receive prosthetics in the future.
Oksana and Viktor have been together for 6 years. They have two children. Their engagement rings were bought in Lviv, and the cake was baked by volunteers. The wedding ceremony took place in the civil registration office, and the celebration took place in the ward of the surgery center.
Read more: https://mediacenter.org.ua/news