Back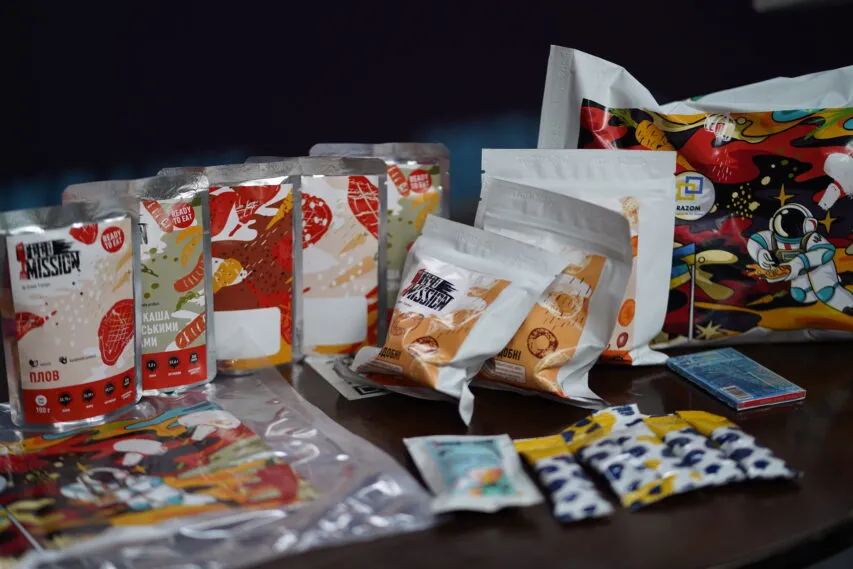 September 14, 2022, 14:30
Convenient, 'Spacey', and Tasty: New Ration Packs for Ukraine's Armed Forces Were Presented in Media Center Ukraine
The RAZOM charity foundation and FEST company team presented ration packs they developed for Ukraine's Armed Forces at Media Center Ukraine. The ration packs will be produced in Ukraine to support domestic manufacturers and create jobs. The ration packs are designed for extreme conditions; according to their developers, even flatware can be dispensed with. Ration pack developers took their inspiration from the space theme.
"We came to an idea that a warrior is like an astronaut. But even in these inhuman conditions, where a regular person can hardly function, one still can provide something, selecting food that not only tastes well but also looks good and can be consumed conveniently. It can be packed in small packages to enable one to consume some part of the ration in the case of extreme situations. We even thought about using tubes as they do for astronauts," Liuba Shypovych, Vice President at Razom for Ukraine, said.
The packaged meals are ready to eat. A 1-kg pack contains 3,000 calories. Currently, the developers work on ration variations.
"We decided not to include soups because, let me emphasize, the rations are intended for extreme conditions. Soups have fewer calories and nutrients. So today, we are presenting the base dishes, such as pilaf, pease porridge with hunter's sausage, and buckwheat with meat. We will also develop vegetarian kits," Volodymyr Shapoval, "Food Mission" Project Manager at FEST, said.
"Together with the Razom for Ukraine foundation, we start a program to supply these ration packs to our warriors on the front line. We will also expand this program to other Ukrainians who found themselves in these inhuman conditions of hostilities; we will also provide food for humanitarian purposes," Andriy Khudo, Co-owner of FEST restaurant chain, indicated.
Tentatively, the production cost of a new ration pack is up to USD 10. In addition, someone who buys these packs can do something good.
"Everyone can join in supporting our defenders because if you buy 10 ration packs for your friend or brother, you always know that you are sponsoring one more ration pack to be supplied to the front line," Evelina Kurilets, Executive Director at Razom for Ukraine charity explained.
Read more: https://mediacenter.org.ua/news