Back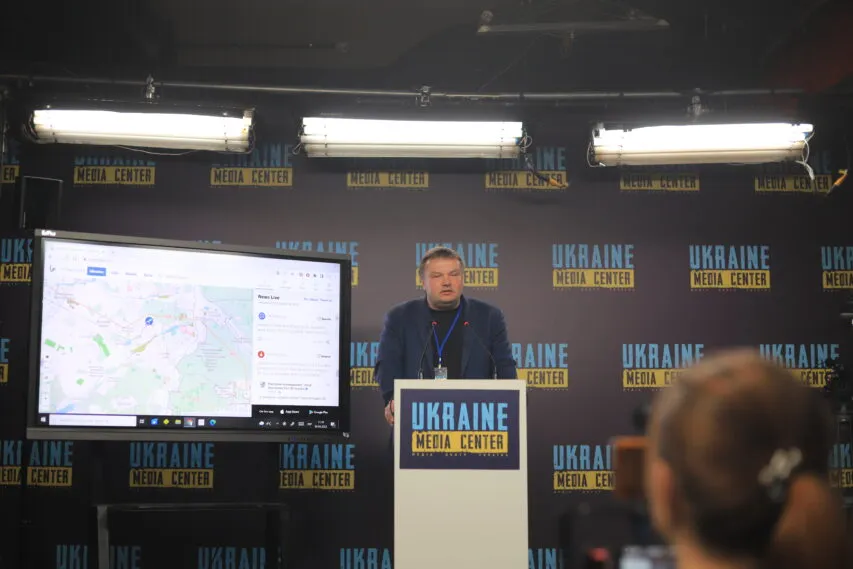 April 5, 2022, 12:34
"Blockade of Ukrainian Ports and Disruption of the Sowing Campaign: russia Wages an Economic War against Ukraine," Vadym Denysenko, Advisor to the Minister of Internal Affairs
This year, Ukraine's GDP can go down 30 to 35 percent. It is a huge blow to our economy. Vadym Denysenko, Advisor to the Minister of Internal Affairs and Executive Director of the Ukrainian Institute for the Future, stated this during his briefing at Ukraine Media Center. According to him, russia is waging a large-scale economic war against our country along several different lines. They include the blockade of the Black Sea that will result in suspending Ukrainian exports. This is because up to 90 percent of the Ukrainian grain was exported by sea. Without the region of Odesa and the Sea of Azov, we are losing export opportunities.
The attempted destruction of Ukraine's infrastructure facilities is the second line of attack. "Russia claims to demand denazification. But in fact, they want to deindustrialize Ukraine. They want to destroy our industrial potential. It is their goal in this war," Vadym Denysenko believes.
Attempts to disrupt the sowing campaign are yet another part of russia's plans. Denysenko is certain that the russian federation effectively declared a grain war against Ukraine and the whole world.
"We need to realize that right now, under the best-case scenario, Ukraine will not be able to sow grain at about 30 to 35 percent of the area under crops. So under the worst-case scenario, half of this area will not be sown," the expert predicted.
Vadym Denysenko added that Ukraine is among the key players in the maize, sunflower, and wheat market. On the other hand, russia aims to increase the price of grain in the world and cause a grain shortage.
"The market can be short of approximately 25 to 30 million tonnes of grain. russians started playing up the story that they would not sell their grain to so-called "unfriendly countries." By doing so, they try to spark panic about prices on global markets," Vadym Denysenko stated.
Ukraine Media Center. Follow the news via the links below:
Website: https://mediacenter.org.ua/
Twitter: https://twitter.com/CenterUkraine
Facebook: https://www.facebook.com/UkraineMediaCenter/
YouTube: https://bit.ly/3whbxSm 
Telegram: https://t.me/lvivmediacenter