Back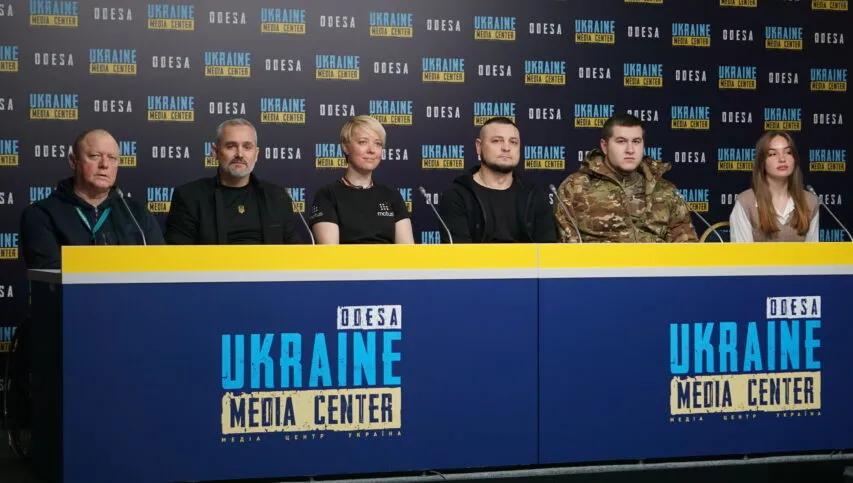 Photo by Media Center Ukraine – Odesa: Oleh Sokolov, Commissioner for Human Rights of people with disabilities in Odesa oblast; Dmytro Vychyk, head of the NGO "Anti-Discrimination Confederation"; Tetiana Lyvandovska, physiotherapist, rehabilitation center MOTUS; Stas Meladze, serviceman; Roman Horodensky, serviceman; Ruslana Danilkina, servicewoman
April 27, 2023, 16:01
Because of the war, the accessibility of the urban environment for persons with reduced mobility should become a priority of society – a human rights activist
Veterans can become the driving force of changes for the better. This opinion was expressed by Dmytro Vychyk, head of the NGO "Anti-Discrimination Confederation", during a briefing at the Media Center Ukraine – Odesa.
In his opinion, there are currently no villages or cities in Ukraine that would meet modern accessibility requirements for people with reduced mobility.
"The people who should be responsible for this are speculating that they are doing something. But the Convention on the Rights of Persons with Disabilities in Ukraine entered into force in 2010. 13 years of "how something is being done", but nothing is done. Therefore, availability either exists or not. No one cares how people who sacrificed their health in the war will live in inaccessible cities and villages. Now this topic needs to be a priority in society. If nothing is changed, these people will be imprisoned in their apartments and houses", – Dmytro Vichyk said.
He emphasized that he really hopes that the military will pay attention to the problem of accessibility.
"Various NGOs have existed for many years, but they have not achieved their goal – to make our cities and villages accessible. The servicemen and veterans need to uncompromisingly demand from the authorities at all levels to do everything possible to make cities and towns accessible to people with reduced mobility," – the human rights activist noted.
He also added that, in his opinion, the issue of inclusiveness of the environment "has been turned upside down by the powerful."
"For example, there is an inclusive beach in Odesa. But it evokes in me associations with yellow stars worn in concentration camps. We have a beach for people with reduced mobility, so what, we will make a beach for deaf people? The law stipulates that any facility must be accessible to everyone," – Vichyk said.
Read more: https://mediacenter.org.ua/news