Back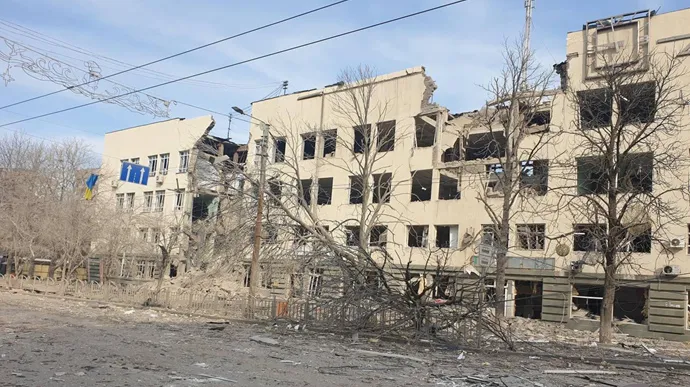 Фото з Маріуполя
April 15, 2022, 19:27
Battles in Mariupol are being waged near the Illich Iron and Steel Works and the seaport, russian Tu-22M3 bomber, Su-24M fencer bomber and Su-34 fighter bomber attack the city – Motuzyanyk
Russian occupants continue its attempts to break through the defense of the Armed Forces of Ukraine (AFU) in the Luhansk Oblast near the towns of Rubizhne and Popasna, fighting continues in Mariupol in the area of the Ilyich Iron and Steel Works and the seaport.
This was reported by Oleksandr Motuzyanyk, Spokesman for the Ministry of Defense of Ukraine during a briefing at the Ukrainian Media Centre, held in Kyiv.
The situation in Mariupol is complicated, the russian army is constantly raising additional units in order to storm the city. There are active battles near the Mariupol Illich Iron & Steel Works. In the Mariupol port area, units [of the russian army] are carrying out assault actions, but the russians have not yet succeeded in fully capturing the city. For the first time since the outbreak of hostilities, Tu-22М3 long-range bomber attacked Mariupol. Su-24M fencer bomber and Su-34 fighter bomber also striking the city. Ground attacks are continuing in the direction of the seaport," said Motuzyanyk.
Motuzyanyk also added that yesterday crews of 2 russian TU-95 and Tu-160 strategic bombers from the Krasnodar Krai airspace of Russia fired air-launched cruise missiles on the territory of our state.
The partial blockade of the city of Kharkiv continues, it is being shelled with artillery. Enemy troops are attempting to break through the AFU defenses in the Izium-Sloviansk and Izium-Barvinkove districts. In the Luhansk Oblast, the main efforts are also focused on the the settlements of Popasna, Rubizhne capture.
"It is possible that in the future the enemy will try to develop an offensive in the direction of Sievierodonetsk, Sloviansk and Volnovakha to create conditions for the encirclement and destruction of our troops units," said Motuzyanyk.
The threat of missile and air strikes on Ukrainian territory persists. There are three arsenal ships carrying sea-based cruise missile type as Kalibr in the Black Sea.
Ukraine Media Center. Follow the news via the links below:
Website: https://mediacenter.org.ua/
Twitter: https://twitter.com/CenterUkraine
Facebook: https://www.facebook.com/UkraineMediaCenter/
YouTube: https://bit.ly/3whbxSm 
Telegram: https://t.me/lvivmediacenter