Back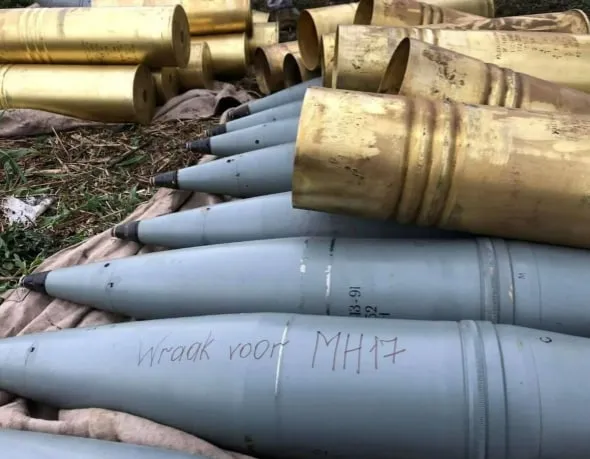 July 22, 2022, 13:58
Avenge russia's Historical Crimes – Inscribe You "Message" to the Enemy on Ammunition in Exchange for Donations for Ukraine's Armed Forces
Ukrainian volunteers launched a new platform to support Ukraine's Armed Forces. A new format will allow foreign citizens to give donations to the Ukrainian military in exchange for ordering a message inscribed on any projectile that will hit russian invaders. Platform developers assure that Ukraine's friends abroad also want to help Ukraine's Armed Forces defeat russians who killed nations and destroyed families' livelihoods.
Oleksandr Arhat, a co-founder of the Militarny web portal, presented this idea at Media Center Ukraine – Ukrinform.
"This project will help kill the enemy more intensively and offer our friends abroad an opportunity to actively support the Ukrainian army. We are doing this to offer our friends abroad aesthetic satisfaction from their assistance and realization that they help fight a totalitarian regime," he said.
Oleksandr Arhat told a story of Ukrainian artillerists who wrote a "Revenge for MH17" message in Dutch to the enemy on one of their projectiles. After the photograph with the projectile became trending on the Internet, we realized that our friends abroad responded to it very emotionally and also wanted to avenge russia's historical crimes in different ways.
"It was the birth of our RevengeFor project idea – we offer foreigners an opportunity to send donations for Ukraine's Armed Forces in exchange for messages reflecting the revenge against russia for its crimes against other nations. Transfers will be made to the Come Back Alive foundation that has already demonstrated its competence," Oleksandr Arhat emphasized.
Taras Chmut, Director of the Come Back Alive Charitable Foundation, considers this war as the fight between barbarianism and Western civilization.
"This war urges people from the whole world to reminisce on their family histories. Via the volunteers, they will help our Armed Forces and avenge all misdeeds," he said.
The mechanism is simple – you just use a form to order your inscription. You can also select a projectile to be inscribed. The military personnel will inscribe the phrase on the round and take a photo for the sponsor. It costs more than donations raised in Ukraine because the platform is intended for the Western world. However, it relates more to private stories, so we do not expect these donations to be raised on a mass scale.
"All the funds will be used to help Ukraine's Armed Forces with communication equipment, novel weapons, and other aid," the Director of the Come Back Alive foundation emphasized.
Anastasiia Tymoshenko, a representative of EMPAT, an IT company, said that this platform was developed pro bono to help Ukraine's Armed Forces and wage war on the IT front line.
Please read the terms and conditions by the link.
Read more: https://mediacenter.org.ua/news