Back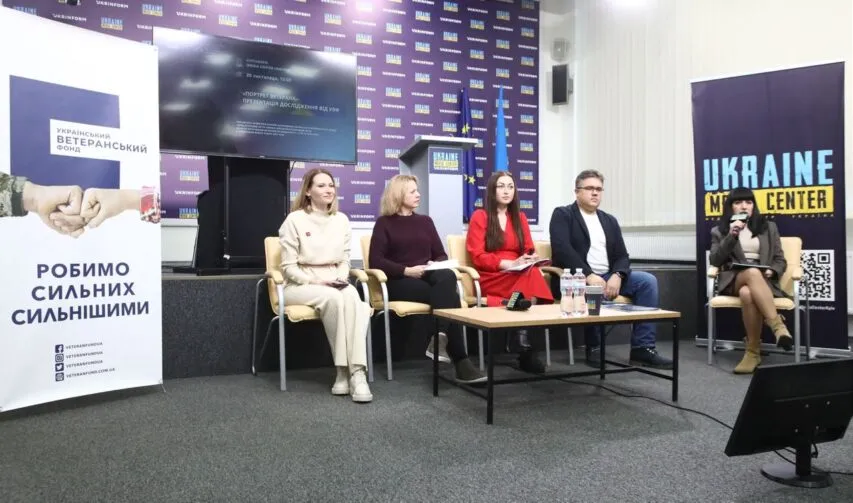 November 20, 2023, 19:07
Attitudes toward veterans and society's respect for them: what results of Veterans Foundation's survey indicate
According to the veterans, the state rather fails to fulfill its obligations to them. This is the opinion of 44.6% of the respondents of the fourth online survey, which was conducted among veterans and active servicemen and women by the Veterans Foundation of the Ministry for Veteran Affairs in October 2023. At the same time, compared to the survey conducted in February 2023, there is a sharp rise in responses saying that the state does not fulfill its obligations at all – from 8.3% in February 2023 to 21.4% in October 2023 this year.
Yulya Kirillova, Head of the Department of Educational and Analytical Work of the Ukrainian Veterans Foundation of the Ministry for Veteran Affairs, presented these survey results during a briefing at Media Center Ukraine – Ukrinform.
She noted that according to the veterans themselves, 38.8% of citizens rather respect them, and 34.3% – rather do not respect them. At the same time, the survey showed that in comparison to the February poll, the respect for veterans has decreased. Thus, in February, 9.5% of veterans believed that society definitely respects them, but in October, this indicator decreased to 4.5%. While in the February poll only 4% believed that society does not respect them at all, in the October study this opinion was expressed by 9.8% of veterans.
Also, when answering questions about challenges and risks veterans may face after returning from the war, Yulya Kirillova said that 55.2% of veterans believe that the main ones will be connected to physical health, 53.8% think that there will be psycho-emotional instability, 53.2% believe that they may face the lack of inclusive space and adaptive workplaces for persons with disabilities.
At the same time, she noted that veterans consider violations of laws (36.6%), suicide (29.1%), and irrelevant job experience (16.6%) to be an extremely unlikely problem for those returning from the war.
As for the support that veterans currently need the most, almost 40.8% of respondents say that they need material support, 18.2% say that they need medical support. In addition, the demand for psychological support is quite stable throughout all surveys, currently it is at 17%.
In turn, Oleksii Tarabukin, Adviser to the Minister of Veteran Affairs of Ukraine, noted that these surveys should serve as a guide for further actions. Particularly, he believes that the results once again confirm the need for a comprehensive legislative reform of veterans' support system.
"What do we need these indicators for? First, we clearly understand that there is a problem. All that I am saying now is not that we are doing well, but that no degradation is taking place. This does not mean that we should not react, we understand that this is a "red flag" that we should look at, which should become a roadmap for our further actions. This survey is another confirmation that we have to work, we have to make a comprehensive reform of legislation regulating veteran support. We have to initiate both strategic projects, such as the Veteran's Assistant, and specific local measures that veterans need, such as compensation for purchasing housing. We understand all this very well, and I very much ask you not to think of these presented figures regarding trust in society and the performance of one's duties as some kind of criteria for general societal degradation, this is not the case," he emphasized.
You can find out more about the results of the study at the following link: https://veteranfund.com.ua/portrait-of-veteran/
Read more: https://mediacenter.org.ua/news