Back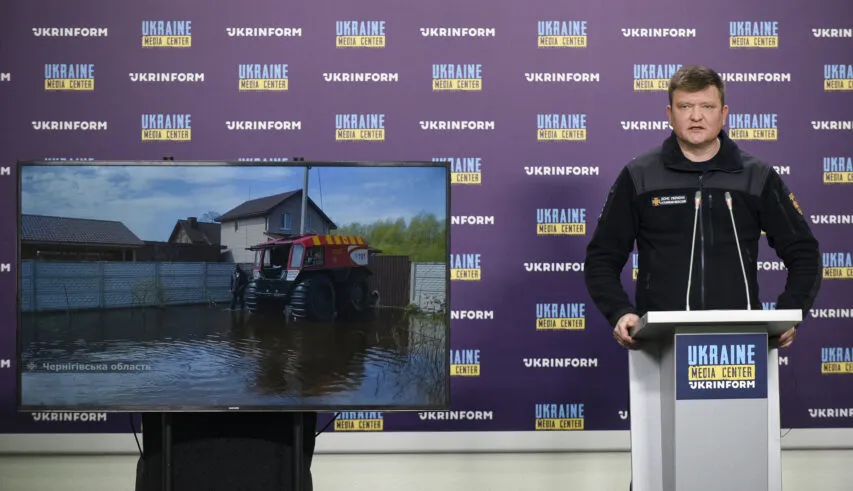 Oleksandr Khorunzhyy, Press Officer of the State Emergency Service, Media Center Ukraine — Ukrinform
April 27, 2023, 16:10
As of now, 704 households remain flooded — State Emergency Service
According to the emergency services, 704 households currently remain flooded. The most severe floods are occurring in Chernihiv, Cherkasy, Dnipropetrovsk, Poltava, Kirovohrad, Volyn and Kyiv regions.
Oleksandr Khorunzhyy, Press Officer of the State Emergency Service, made this statement at a briefing at Media Center Ukraine — Ukrinform.
"As for the flooding of agricultural lands, about 20,000 lands have been flooded. The biggest amount is in Volyn region, particularly in Kamin-Kashyrskyi and Kovel districts, as well as in Rivne region, specifically the Sarny and Varash districts," said the Press Officer.
According to Oleksandr Khorunzhyy, transport links to 32 settlements were disrupted.
"All of them are in Chernihiv region. But certain conditions were created there so that it would be possible to bypass these areas and access the populated areas. The State Emergency Service is constantly monitoring the situation, in particular with the help of UAVs, and accordingly, mobile task forces are working on the most difficult sites, in particular Chernihiv and Cherkasy oblasts," he added.
Oleksandr Khorunzhyy reported that more than 2,000 cubic meters of water were pumped out over the past day, and a total of over 56,000 cubic meters — since the works started.
In addition, rescuers of the State Emergency Service delivered more than 6,000 kilograms of food and transported about 4,100 people over water obstacles. 27 people were evacuated from their homes.
"A total of 1,430 rescuers and 655 pieces of equipment have been involved since the beginning of the work. We have created 4 assistance centers in Chernihiv region. In particular, it is Mnov village, Dniprovske village, Yaduty village and Radul village. Also, one assistance center was put up in Khreshchatyk village, Cherkasy region. There is equipment and people on sites that can help in case the situation worsens, and, in general, so that people can get both food and drinking water," Oleksandr Khorunzhyy said.
Read more: https://mediacenter.org.ua/news