Back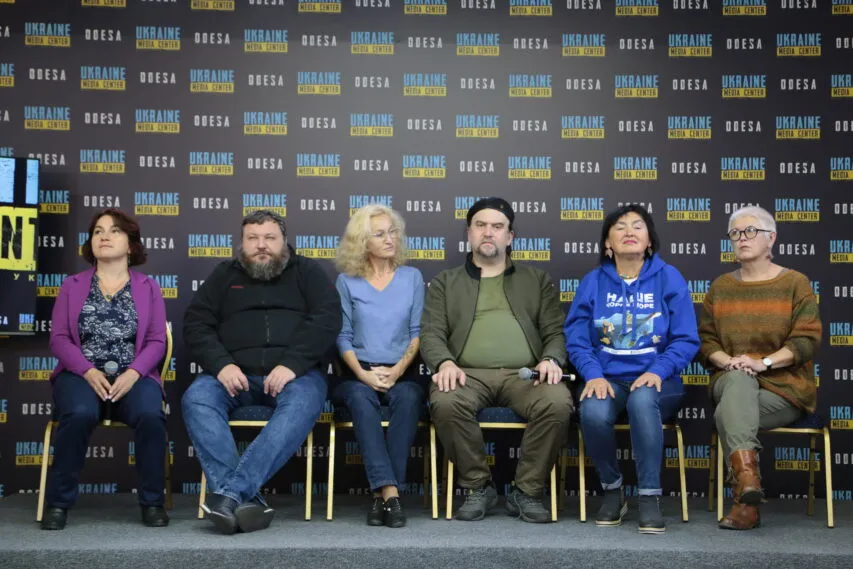 Photo Media center Ukraine — Odesa: Olena Marushevska, Yevhen Dyky, Olena Velyka, Oleksandr Zakletskyi, Tetiana Chychkalyuk, Olena Nemynucha
October 28, 2022, 16:03
Art exhibition "Black Sea Diary 2022" opens in Odesa on October 29
This is an educational and scientific project, the purpose of which is to draff children` attention off the war, the organizers of the exhibition said during a briefing at the Media Center Ukraine-Odesa
29 children aged 5 to 12 from Kherson and Kherson region, Mykolaiv, Donetsk region and Odesa took part in the project. For two months, they listened to lectures by scientists about the Black Sea, and then created 38 works about of Black Sea and its inhabitants in four techniques – appliqué, graphics, assemblage, collage.
"Our idea was to show how beautiful our Black Sea is, how we all miss it," said Olena Marushevska, representative of the EU-UNDP project "European Union for Strengthening Environmental Monitoring of the Black Sea".
As marine biologist Yevhen Dyky said, all scientists have worked with children before, but this year they decided to concentrate on those whose homes were taken away by the war.
"For these children, the war took away not only their home, but also the sea. We wanted to do something in between – both an educational project, and it was supposed to distract from the war and give a little dream about the sea, which, unfortunately, is unattainable this season. We wanted the children to see the sea from a different angle. As an environment in which many interesting creatures live that make up the sea. We wanted to show the sea as a collection of these creatures," said Yevhen Dyky.
"The idea was to combine science and art. Scientific illustration is where science and art come together. The most important thing for me was to make children fall in love with science through art. On the way out, I saw exciting works," said ecologist Oleksandr Zakletskyi.
On October 29 at 2:00 p.m., the opening of the exhibition "Black Sea Diary" will be held at the address of Odesa, Soborna square, 2, creative space "Dialogues". It will last until November 11.
For more information +380500895830
Email: [email protected]
Find us here:
Website: https://mediacenter.org.ua/
Twitter: https://twitter.com/CenterUkraine
Facebook: https://www.facebook.com/UkraineMediaCenter
YouTube: https://www.youtube.com/channel/UCakUdCyDNCdzfosJN2fAWpw
Telegram: https://t.me/mcu_odesa
Read more: https://mediacenter.org.ua/news