Back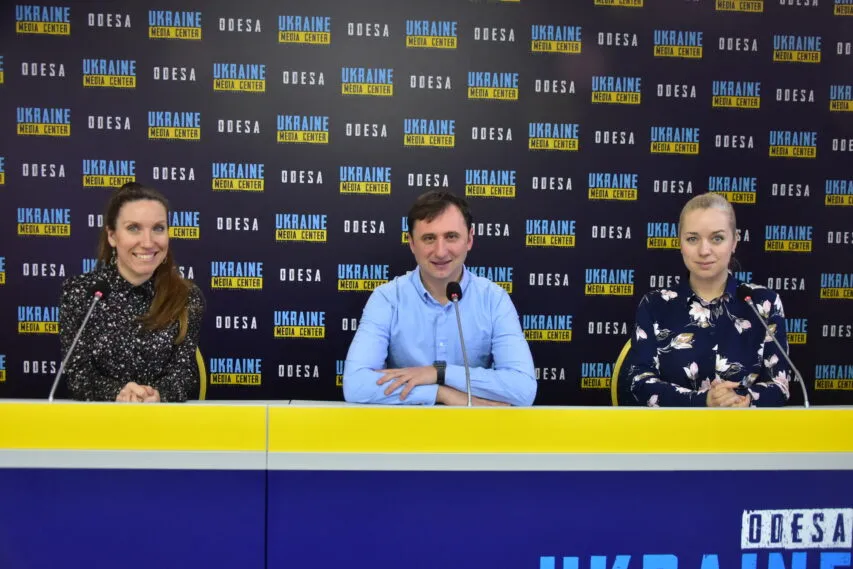 Media Center Ukraine – Odesa: Tutta Vaganova, author and presenter of the children's program "Funny DIYs" in "Agugugu" studio; Volodymyr Ksenzytskyi, head of the "Agugugu" Studio, producer, author, and presenter of children's programs; Inna Popova, author and host of the children's program "Culinary secrets of Nyusia Povarioshkina" in studio "Agugugu"
January 20, 2023, 14:05
Almost 40 performances in 40 cities in 40 days – actors of "Agugugu" studio talked about their tours in Europe and Ukraine
During a month and a half, the actors played for more than 10,000 Ukrainian children in Germany, Moldova, the Czech Republic and the western part of Ukraine. Volodymyr Ksenzytskyi, head of the "Agugugu" studio, producer, author, and presenter of children's programs, told about this during a briefing at the Media Center Ukraine-Odesa.
As the actor said, in the summer of 2022, the studio went on a tour of Ukraine, and the actors saw that the number of children had significantly decreased.
"And we had a goal to go to the children who left Ukraine. We were told that it was not possible. But we made a New Year's play, showed it at the ministry of culture and information policy of Ukraine, then made up all the documents. It was a difficult path, but we succeeded and went abroad," the producer said.
As Volodymyr Ksenzytskyi added, the troupe performed 25 events in Germany, 4 in Moldova, and one in the capital of the Czech Republic, Prague.
"The schedule was very tight, because we were given permission for only 28 days. The halls were for thousands of people, and they were full. There were a lot of people from Kharkiv, Mariupol, Kherson, Odesa. And, what's surprised us the most, a lot of people from russia also were there. Especially the men who also came and told how they fled from russia," the actor said.
He added that after returning from Europe, from January 2 to 10, the "Agugugu" studio toured Western Ukraine.
"During this tour, the children taught us, not we taught them. They showed us that it is necessary to live on, to breathe, to be surprised. Don't give up, create," said Inna Popova, the author and presenter of the children's program "Culinary Secrets of Nyusia Povarioshkina".
The actors did not manage to earn money during the tour in Western Ukraine, but as noted by Tutta Vaganova, the author and presenter of the children's program "Veseli Samorobky", the actors did not set such a goal for themselves.
"We gave a good mood to our children and parents. And we were probably happier than the children who attended our performances. We were charged with their emotions and will continue to create," Tutta Vaganova said.
Read more: https://mediacenter.org.ua/news