Back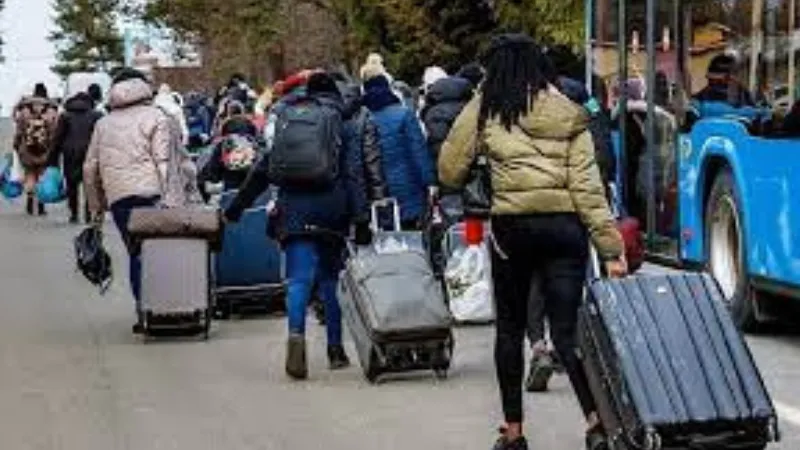 April 11, 2022, 15:11
After the Kramatorsk railway station rocket attack, the evacuation from Donetsk oblast will be carried out from Sloviansk and Pockrovsk – mayor of Kramatorsk city
A rocket strike on a railway station in Kramatorsk, Donetsk Oblast, killed 57 people (including 5 children) and injured 114. After the attack, the train station in Kramatorsk ceased its work, and evacuations were organized from the towns of Sloviansk and Pokrovsk.
This was reported by Oleksandr Honcharenko, the Mayor of Kramatorsk city at a briefing at the Ukrainian Media Centre, taken place in Kyiv.
"Evacuation is resumed and continues from other cities, notably Sloviansk, it will become an evacuation hub moved by rail for the north of Donetsk province, meanwhile the city of Pokrovsk will be devoted for the south. There are regular shuttle buses that run to the stations. We did carry out all those wishing on Saturday, Sunday and today. About 160 thousand people have already left Kramatorsk. Currently, there are about 40-45 thousand people in our city, which is almost a quarter of the townspeople. Those people also did not leave Kramatorsk during 2 months of hostilities in 2014, and they will not go anywhere now if there is no heavy shelling and bombing," said Oleksandr Honcharenko.
At the same time, he stressed that all those who wish to get out of town city can leave.
"The experience of other cities, such as Mariupol and Chernihiv, shows that the occupants are trying to use residents as hostages for their hostilities. Therefore, the task of the city authorities, every mayor, is to keep the number of people, especially women and children, in the cities as small as possible. The primary, main purpose [of the missile strike] was spreading panic and demoralization. There really was panic in the city on Friday, within the first hours after the strike. Today the city is calm, wherever possible under such circumstances," said the mayor of Kramatorsk.
Viacheslav Zaporozhets, volunteer at the "Life Saving Center", who was in Kramatorsk on the day of the missile strike (Friday, April 8), added that a significant part of the wounded were saved thanks to the heroic work of doctors in Kramatorsk.
"During the first hours all the conduction of those seriously wounded were stabilized, they were sent to hospitals in neighboring regions. I personally witnessed one of the surgeons in Kramatorsk operating on two wounded simultaneously. The work was very coordinated, otherwise without that kind of assistance there would be many more deaths than that. The last ambulance carrying wounded from Kramatorsk to neighboring provinces was out of town at 3 a.m., and all that time the doctors were working. This is heroism, a real heroic deed," Zaporozhets added.