Back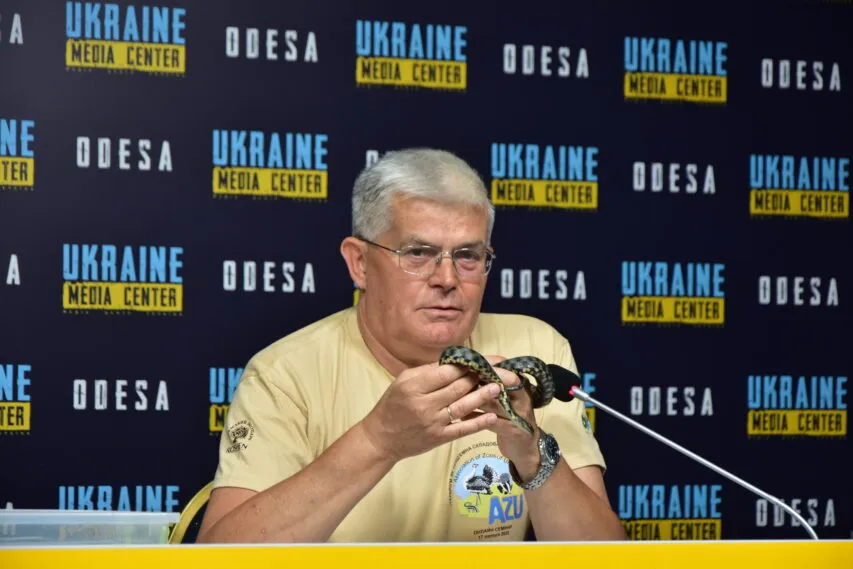 Photo by Media Center Ukraine – Odesa: Ihor Belyakov, director of Odesa zoo
July 4, 2023, 14:26
After the Kakhovka hydroelectric dam blow up, nearly 300 animals found shelter in the Odesa zoo
Most of them arrived to Odesa on floating "islands" that were washed up to the coast. Ihor Belyakov, director of the Odesa Zoo, told this at a briefing at the Media Center Ukraine – Odesa.
He noted that these were mostly small aquatic animals – newts, frogs, snakes, turtles.
"We have rescued almost 300 animals, all of which are to be returned to the wild. Among them there are over 100 Danube newts, this is a rare animal listed in the Red Book of Ukraine. However, unfortunately, many of these animals died… We did not release these newts yet because they need to be returned to the place where they came from, Kherson region," – the expert noted. Zoo personnel will wait for the safety situation to be established.
He also said that people saved many lake frogs, water turtles, and water snakes. "All these animals can be released in Odesa region, they live here as well," – Belyakov added.
The director also said that the military handed to the zoo three raccoon dog puppies. They were later released to the Lower Dniester National Nature Park, as well as a female deer, also given to the zoo by the military
"There are also steppe vipers in Kherson region, but so far they have not appeared near our coast. In addition, a lot of muskrats got into the sea, which is a very difficult animal to catch. But Odesa residents brought to the zoo eight of them. All of them were also been released in the Lower Dniester National Nature Park," – Belyakov added.
Read more: https://mediacenter.org.ua/news