Back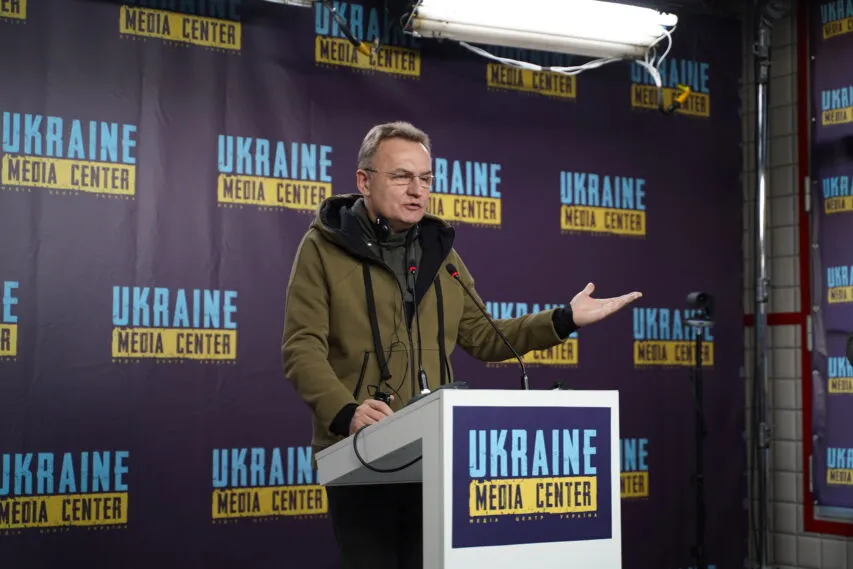 March 18, 2022, 15:41
"After Russia's Invasion, There Are No Safe or Unsafe Cities in Ukraine," Andrii Sadovyi, Lviv's Mayor, Believes
Today, Lviv was attacked with missiles at 6:30 AM. Andrii Sadovyi, Lviv Mayor, described the consequences of the attack on the city and the humanitarian situation in Lviv during his briefing in Ukraine Media Center. 
▪ There are no "safe" or "unsafe" cities after the Russian invasion, for everyone is under attack. The missiles were fired from the Black Sea, and no one can predict the targets of the next attack. Thus, if you hear the air raid siren, please keep safe in the bomb shelter and take care of your health.
▪ Our vehicle fleet garage is located near the target of the missile attack. There are no windows now. The biggest concern is the destruction of all hangars and rooms of the Air Repair Plant. No one died, and one person suffered moderately severe injuries because a decision had been made earlier to remove all the production facilities from the site.
▪ The last week, Lviv's Railway Station received about 60,000 people per day; today, we are meeting about 10,000 people per day in Lviv. Moreover, many people come with their cars.
▪ There are no beds in hotels or hostels and no empty apartments. About 20 percent of the people stay permanently in schools and other temporary accommodation centers; most stay for 4 to 5 days, and then continue their journey to other countries. There are more than 200,000 people, and we face challenges with the food supply. For these three weeks, everything was supplied by the community and ordinary people.
▪ In Lviv, we have allocated sites for shelters that can be built rapidly. People won't be able to stay long term in gyms and schools. Recently, there was a hackathon organized by many international organizations, and we hope that assistance will be provided more actively from now on.
▪ About 85 percent of children enrolled in online courses in schools. More than 2,000 of them are children who came to Lviv from other oblasts of our country.
There was a discussion about whether to open up groups in nursery schools of various city neighborhoods. However, there is an issue that if the air raid siren sounds, it is very difficult to gather children sleeping after lunch and move them to a safe place. For this reason, we do not open nursery schools.
▪ Lviv relaunches all its industrial plants. Job seekers offer their information, we put them in touch with businesses, and they start communicating.