Back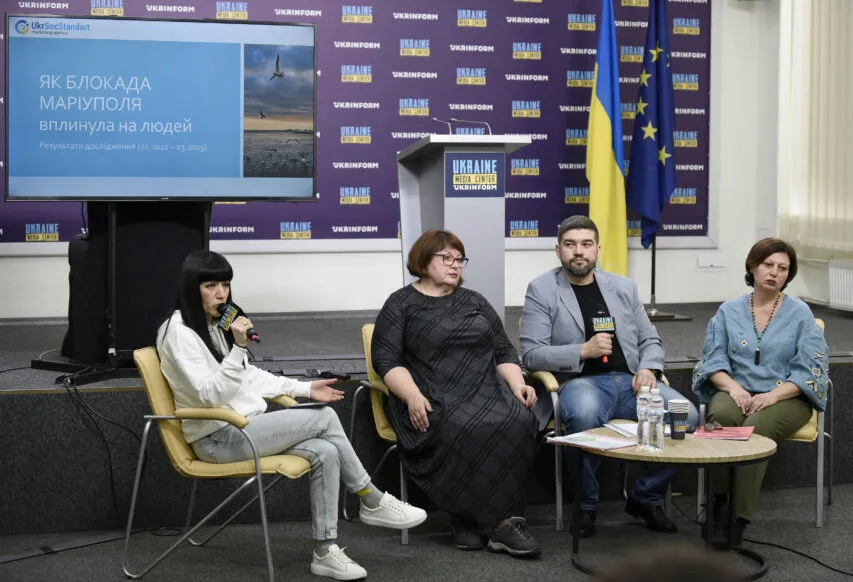 UkrSocStandart project, Media Center Ukraine – Ukrinform
March 27, 2023, 16:50
About 60% of Mariupol residents who left the city are likely to be diagnosed with PTSD – research findings
According to the UkrSocStandart marketing agency study conducted from December 2022 to March 2023, 51% to 60% of evacuated Mariupol residents could have experienced post-traumatic stress disorder.
Denis Podyachev, UkrSocStandart project manager, presented relevant data during the presentation of "How the siege of Mariupol affected people" research at the briefing at Media Center Ukraine – Ukrinform.
The authors noted that an online study was conducted by posting a link to the questionnaire posted on Facebook, Telegram, Viber, and the city's main media. The sample amounted to 1094 interviews.
Hence, according to the study, people who survived the blockade have a relatively poor state of health.
"60% of the respondents experienced symptoms of disorders that may develop in PTSD cases. People with PTSD disorders are about twice as likely to report symptoms of tachycardia, stomach neurosis, and shortness of breath," said Denis Podyachev.
He emphasized that the respondents show a low level of social adaptation in a new place.
"Only half of the respondents indicated that they were able to solve the issue of permanent housing, and about 40% of the respondents were able to solve the issue of permanent employment. Less than 1/3 of respondents would like to reside at the place of their current stay permanently. 44.5% do not set any short-term goals."
Denis Podyachev stated that the study revealed a two-way relationship between the presence of PTSD on the one hand and the emergence of new chronic diseases, frequent place of residence changes, and unresolved issues of employment on the other.
"On one side, PTSD complicates the solution of these issues and causes health problems. But there may also be a feedback loop when all these consequences and problems prolong a person having PTSD. And this allowed us to apply a certain regression model that PTSD depends on the failure to resolve certain issues in people in the future. That is, it prolongs the problematic psychological and physical condition of people. This is our most important outcome of the study."
Read more: https://mediacenter.org.ua/news