Back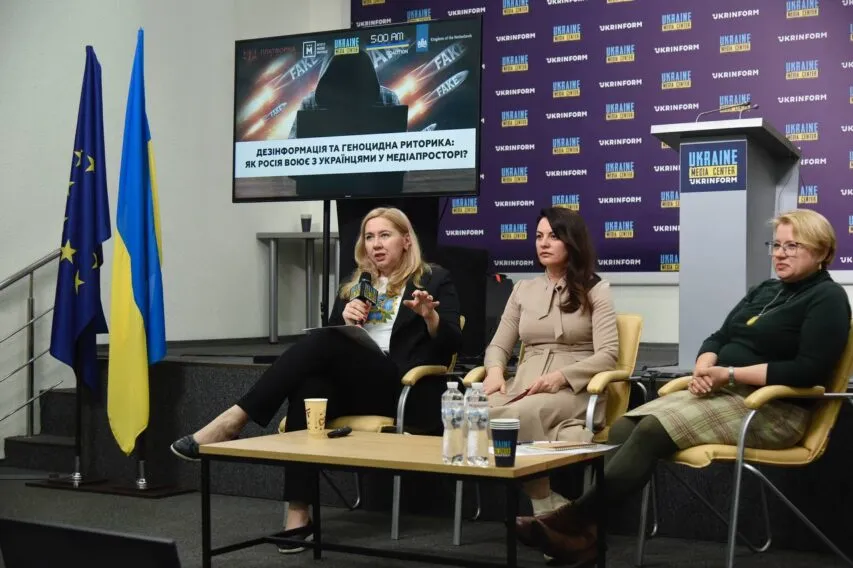 November 1, 2023, 14:17
About 40% of propaganda content of kremlin media outlets concerns Ukraine
The information space of the russian federation is filled with narratives concerning Ukraine, and almost half of the kremlin media outlets' news content concerns Ukraine itself.
Oksana Romaniuk, Executive Director of the Institute of Mass Information (IMI), made this statement during an event at the country's main discussion platform BrainHub at Media Center Ukraine – Ukrinform.
"We recently conducted monitoring and were simply amazed that about 40% of all news content of the russian kremlin media is dedicated to Ukraine," she said.
According to Oksana Romaniuk, the main narratives spread by the russian federation regarding Ukraine include the stories that russia is supposedly winning the war, and Ukraine is not being provided with weapons. Also, the narratives refer to the supposed russian victories in the war and how they are actively destroying the Nazis in Ukraine. In addition, the narrative about the malicious NATO constantly remains in the information space of the russian federation.
Oksana Romaniuk emphasized that russia's actions against Ukraine in the information space are aggressive propaganda and aggressive rhetoric. And russia is doing it at different levels and in different ways.
According to her, a large database has already been gathered up and cooperation with law enforcement agencies is underway to prove the propagandists' crimes.
BrainHub is the country's main discussion platform created by Media Center Ukraine – Ukrinform. It brings together experts from the state and civil society sectors. BrainHub hosts intellectual discussions around the issues of the post-war reconstruction of Ukraine. It's the birthplace of the best ideas that will become the foundation for the road map of Ukraine's reconstruction in all sectors: economy, infrastructure, education, agriculture, security, digital, etc.
Read more: https://mediacenter.org.ua/news