Back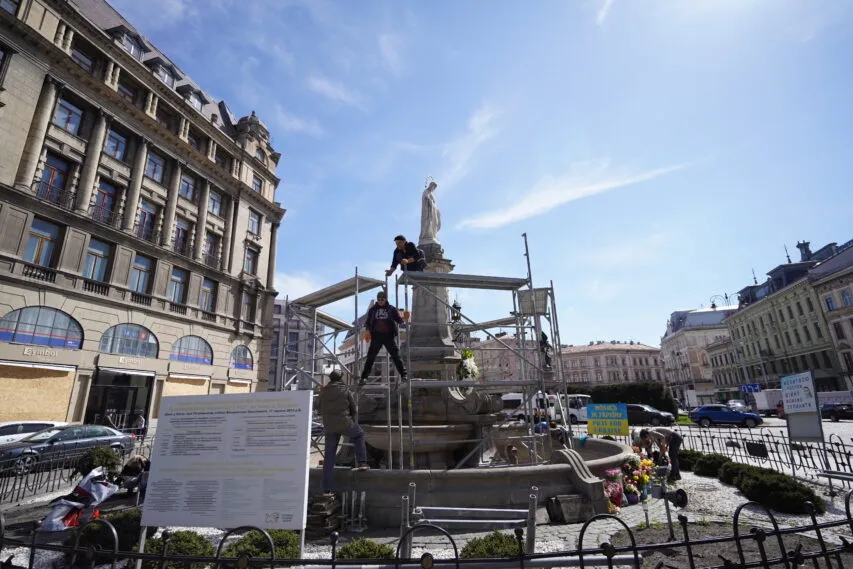 April 13, 2022, 17:16
A protective structure is being installed around the Virgin Mary figure in the center of Lviv – this is how the city protects monuments
Lviv continues to protect its historical heritage. On April 13, works began to protect the sculpture of the Virgin Mary in Mariyska Square. The pedestal on which the figure of the Virgin Mary is placed will be closed with a special metal structure, and then with a sawdust and a plate. According to the Head of the Department of Historic Environment Protection of the Lviv City Council Liliya Onyschenko, the Virgin Mary statue itself will be left open so that people can come here and pray.
«The pedestal itself has artistic value. The figure of the Virgin Mary is not original, it is a replica. We are leaving it uncovered so that religious people can continue to pray here», – Liliya Onyschenko explained.
A group of experts under the supervision of renovators are working to protect monuments of Lviv. Volunteers are also helping. Budget funds are not used for these works.
«This is the help of various organizations from the West that have volunteered to help the cities of Ukraine. We share the protective materials we received from Polish cities with other cities in Ukraine»,– Liliya Onyschenko added.
Next, the protective constructions will be installed around Adam Mickiewicz monument. It is also planned to protect st. Jan of Dukla column next to the Bernardine Church, and Sykst column on 10 Stepana Bandery street.
To recall, the preservation of architectural monuments in Lviv began in the first days of the war. To date, dozens of monuments or their individual elements have been protected. Some were dismantled and moved to storage.