Back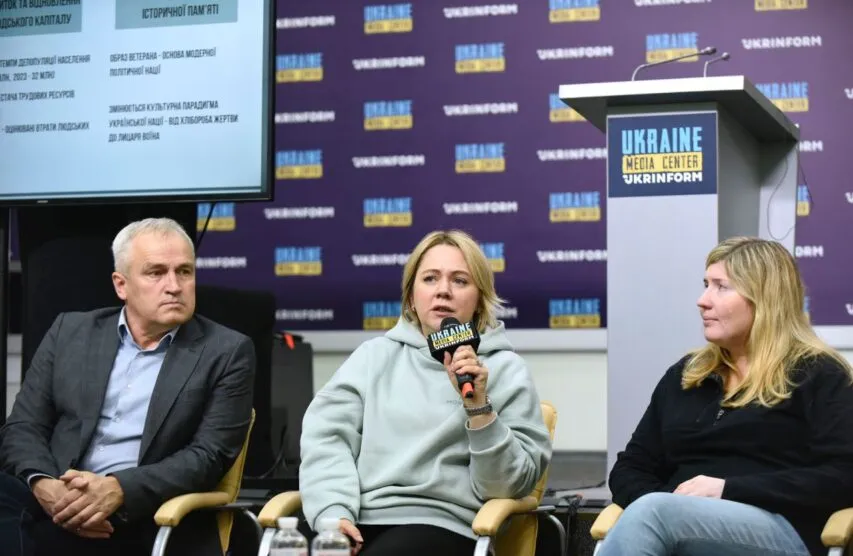 November 1, 2023, 18:05
A project to prepare communities for the veterans' return to civilian life is being launched in Ukraine
Place of Opportunities NGO together with the All-Ukrainian Association of Communities and with the support of the International Renaissance Foundation are launching an All-Ukrainian project to prepare communities for the return of veterans to civilian life. The project will last for a year and aims to create working programs in communities for the adaptation and reintegration of female and male veterans in their communities where they will return after the war.
It was discussed during a presentation at the BrainHub country's main discussion platform at the Media Center Ukraine – Ukrinform.
According to Oksana Koliada, a Place of Opportunities NGO representative, the project will be long-term, but 10 communities have been selected to start with, and they will be worked with more deeply than the rest.
The project will feature various components. In particular, it will include a research component to create a so-called community profile on the number of veterans, their families, budget programs, and community stakeholders working on war veteran issues.
The project will also comprise a training element, implying joint teams going to the community, and several days of strategizing, including with the participation of community leaders and heads of departments. However, the organizers do not plan to limit this issue to employees or members of the community management team, so the public sector and business representatives present in the community will be invited to participate. And representatives of various fields.
In addition, the project provides for joint training for village mayors and starostas (headmen).
"We will draw up reintegration programs for each of the communities since they are all unique. And the initial data is one-of-a-kind. I think there will be a certain framework that we will further scale to all communities, and we will disseminate information. We have 10 communities that we are going to work on in-depth, 20 that we are going to work on in detail, and then we have to inform up to 500 communities and share this experience for further work," Oksana Koliada said.
BrainHub is the country's main discussion platform created by the Media Center Ukraine – Ukrinform. It brings together experts from the state and civil society sectors. BrainHub hosts intellectual discussions around the issues of the post-war reconstruction of Ukraine. It's the birthplace of the best ideas that will become the foundation for the road map of Ukraine's reconstruction in all sectors: economy, infrastructure, education, agriculture, security, digital, etc.
Read more: https://mediacenter.org.ua/news