Back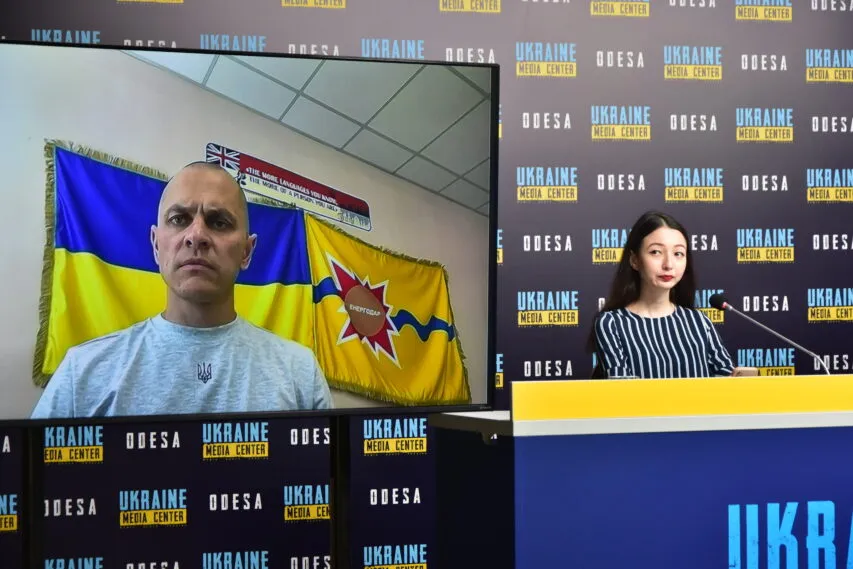 Photo by Media Center Ukraine – Odesa: Dmytro Orlov, mayor of Enerhodar; Yulia Khymerik, investigative journalist at Slidstvo.info
July 21, 2023, 16:08
A presentation of a journalistic investigation about the terror of the occupants in Enerhodar was held at the Media Center Ukraine – Odesa 
Investigators of the Slidstvo.info project managed to talk to local residents and identify some of the occupants. This was announced at a briefing at the Media Center Ukraine – Odesa by one of the authors of the investigation, journalist Yulia Khymerik.
She said that the media managed to find facts of abduction and torture of people who did not want to cooperate with the occupiers and to take Russian passports.
"Russians have set up torture chambers in police buildings. They torture people with electric shokers and knives. Because people do not want to sign contracts with the fake Rosatom company. Occupants can take kidnap purely right on the street. One man's fingers have already been broken four times. A woman who works at a nuclear power plant had her access card blocked. Her relatives, who also worked at the plant, were kidnapped last year. And she still does not know what happened to them," Khimerik said.
She added that the occupiers appointed Yuriy Cherniychuk as the director of ZNPP, who had been the deputy chief engineer of the plant before the full-scale invasion. After the seizure of ZNPP, Cherniychuk agreed to head the fake "operating organization" created on its basis, which is subordinate to Rosatom.
According to the journalist, the occupants units are mostly from Chechnya.
"The Akhmat-1 riot police unit of the Chechen Republic's russian guard is currently deployed in the city, patrolling the city. This unit was created recently, in September 2022, and is involved in the war against Ukraine. The unit is headed by Alikhan Shavkhalov with the call sign Legion. There was also an "Akhmat-Grozny" unit in Enerhodar led by Anzor Bisayev. It was Bisayev who was involved in the kidnapping of a teenager in Kyiv region," – the journalist noted.
According to Yulia Khimerik, the Russians are very well entrenched in the city and at the station itself.
"I don't think they will retreat like they did in Kherson. Before they leave, they will at least commit a terrorist act. We will definitely need the help of the IAEA and the world, because Enerhodar residents are sitting on a powder keg," – the journalist added.
Read more: https://mediacenter.org.ua/news