Back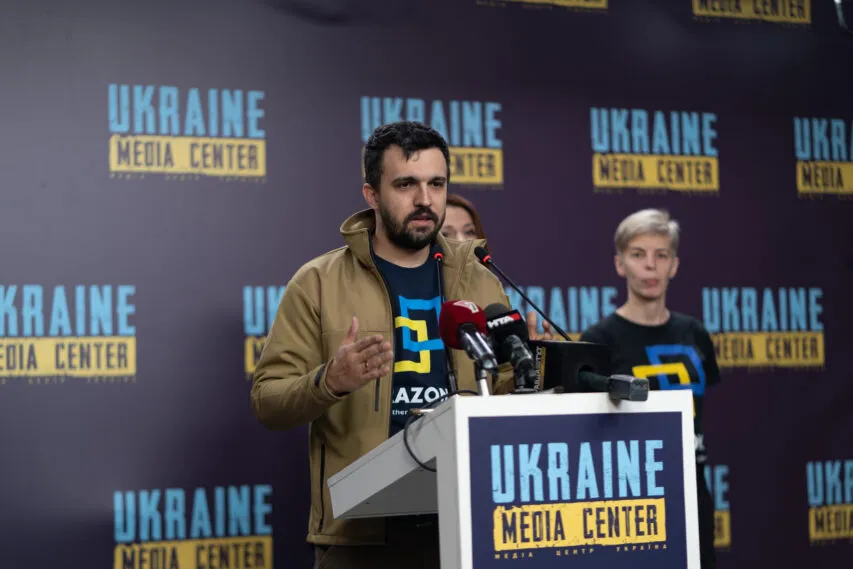 May 5, 2022, 13:40
A father who raised USD 2 million to treat his ill son is now saving other children from the war
Ten children with spinal muscular atrophy (SMA) have been evacuated from the front line areas since the start of the full-scale russian invasion. Vitaliy Svichynskyi, head of the «Children we will make it» social movement, father of a child with SMA, said this during a briefing at Media Center Ukraine. According to him, at first, together with Razom for Ukraine NGO, they only evacuated families raising children with disabilities. As the initiative evolved, they started to evacuate any families with children. In total, about 500 people were evacuated from the frontline areas. According to Svichynskyi, there is now a fleet of 8 buses for evacuation, including those specially equipped to transport people with disabilities. In the first days of the invasion, they had to work using their private cars.
«We had to transport seriously ill children, in particular bedridden ones, by cars. Then there were traffic jams, sometimes 18 hours-long. Once, when we could not go anywhere with such a seriously ill child, we spent the night right on the highway. I was very worried then, but everything ended OK. All the evacuated children are already safe, and I am very glad that everything worked out,» – Vitaliy Svichynskyi said.
The head of the social movement says that the fact that Ukrainians had raised USD 2 million to save his young son from the SMA last year gave him the strength to help other children in need.
«I am very grateful to all Ukrainians who raised USD 2 million in 80 days. So it is my public duty as a person who has felt all the love of Ukrainians for their children, to do everything possible to make us even stronger, to win. I want to help all citizens who find themselves in difficult conditions, in frontline areas with sick children, or simply with children,» – Vitaliy Svichynskyi said.
«Children we will make it» is a social movement started out of a campaign to raise money for the world's most expensive drug (Zolgensma) to treat people with SMA (spinal muscular atrophy).
On July 16, 7-month-old Dima Svichynskyi received a USD 2 million injection in the United States to help cope with a rare genetic disease. The funds for medicines were donated by patrons, show business stars, and, above all, ordinary Ukrainians. The whole amount was raised in less than three months.
To date, Razom for Ukraine NGO has evacuated more than 300 children with special needs together with their families from hotspots.
Read more: https://mediacenter.org.ua/news