Back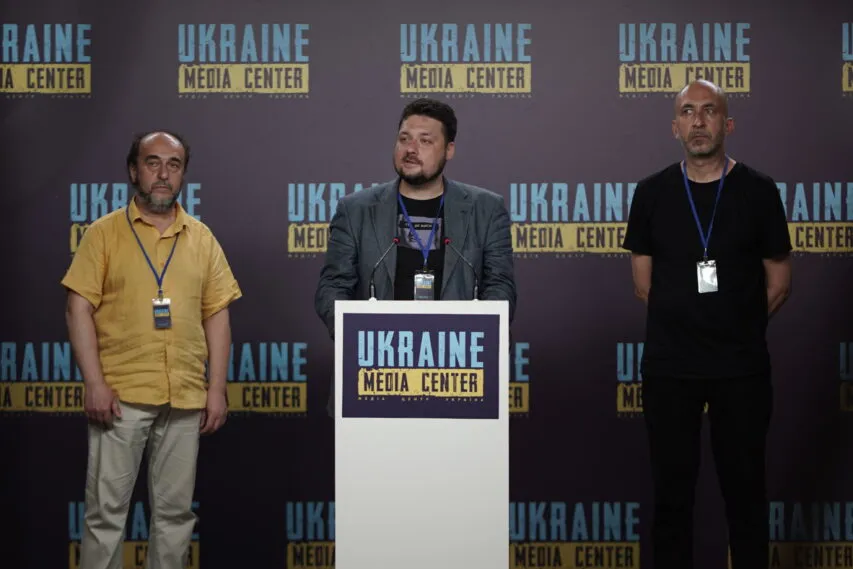 Володимир Сивохіп, Денис Литвиненко, Орест Сліпак, Медіацентр Україна
June 30, 2022, 13:46
6th International Music Marathon commemorates anniversary of Wassyl Slipak's death: proceeds to be used to help the military
The 6th International Music Marathon in memory of Wassyl Slipak "W Live. Wassyl Slipak for the VICTORY" was organized for the sixth time at Lviv National Philharmonic. It took place on June 28-29. In addition to Lviv, commemorative concerts were also held in Paris and the Swiss municipality of Zuchwil, Volodymyr Syvokhip, Director General of Lviv Philharmonic said at a briefing at Media Center Ukraine.
"We tried to combine things that don't seem to go together: pop singing, a vocal group, and a symphonic orchestra. But we combined all this around Wassyl, as a singer, on the one hand, and also around Ukraine, as it is today, during the war. Therefore, many historical songs, patriotic songs and many marches symbolizing our valiant Ukrainian army appeared in the repertoire," — Volodymyr Syvokhip said.
Also, according to Denys Lytvynenko, soloist of Lviv National Philharmonic, the organizers and participants dedicated the Marathon not only to the memory of the deceased, but also to the promotion of Ukrainian culture in the world, which Wassyl Slipak was actively engaged in during his life.
"Our Ukrainian culture is very powerful and very big. They tried to destroy it, they tried to steal it. This will never happen again. For me, this marathon is very important every year. It shows that we remember our culture," — Denys Lytvynenko said.
The organizers will spend all the money collected during the concerts in Lviv, France and Switzerland to help the Ukrainian military.
"Lviv National Philharmonic traditionally helps the 80th Brigade. There are certain goals. The Philharmonic is now, in fact, the headquarters. There are always volunteers and there's a warehouse… Therefore, all funds will be allocated to these projects, which have been carried out by the philharmonic since the very beginning of the russian aggressor's invasion in Ukraine," — Orest Slipak, Wassyl Slipak's brother and Founder of Wassyl Slipak Foundation explained.
As reported, world-famous Ukrainian opera singer Wassyl Slipak, a soloist of the Paris Opera, voluntarily went to the frontlines and died on June 29, 2016 during the fighting near Debaltseve. The annual international music marathon in his memory was launched at Lviv National Philharmonic in 2017.
Read more: https://mediacenter.org.ua/news