Back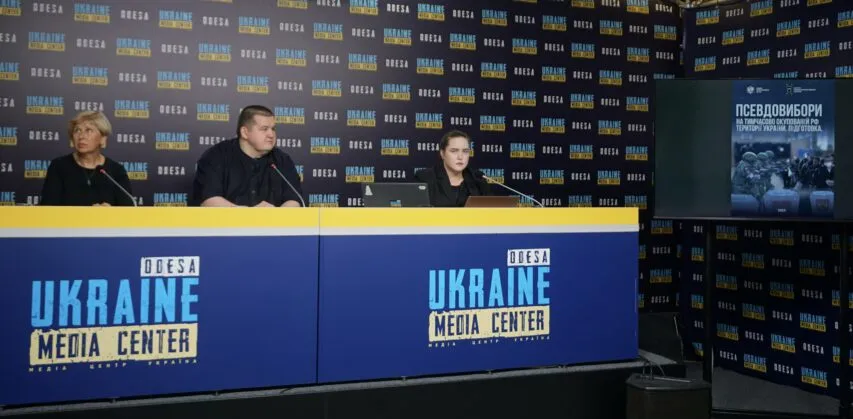 Photo by Media Center Ukraine – Odesa: Ella Mamontova, professor of political theory at the National University "Odesa Law Academy"; Pavlo Lysyansky, human rights activist, director of the Institute for strategic studies and security Vira Yastrebova, attorney, director of the NGO "Shidna Pravosazahisna Grupa" (Eastern Human Rights Group)
September 5, 2023, 15:21
42% of candidates in fake local elections in the occupied territories are Russian citizens – human rights activists
The occupation authorities failed to forcibly passport 80% of the people by September 1, as demanded by the Kremlin. Pavlo Lysyansky, human rights activist, director of the Institute for strategic studies and security.
"The Kremlin set the occupation authorities the task of forced pasport 80% of the local population by September 1, 2023, but they failed. Therefore, the so-called law enforcement officers of the occupation administrations who are on a business trip were included in the voter lists. russian military personnel. Citizens of Central Asia who had recently received a russian passport. Therefore, more than 50% of the voters on the lists have never lived in Ukraine. 42% of the candidates are russians. Therefore, these elections have no relevance to the local population," – the human rights activist said.
He also added that 9,818 candidates and 21,939 commission members, as well as about 5 million voters, were registered in these fake elections. However, more than 50% of these people are Russians. In addition, extraterritorial polling stations were set up in Russia for residents of the temporarily occupied territories of Ukraine who were forced to leave or were deported to Russia.
According to Ella Mamontova, professor of political theory at the National University "Odesa Law Academy", these elections are "another step towards the incorporation of the occupied territories into russia and the creation of a colonial administration. Because the public activities of local residents were destroyed by the occupants".
More information about the report of human rights activists can be found here.
Read more: https://mediacenter.org.ua/news