Back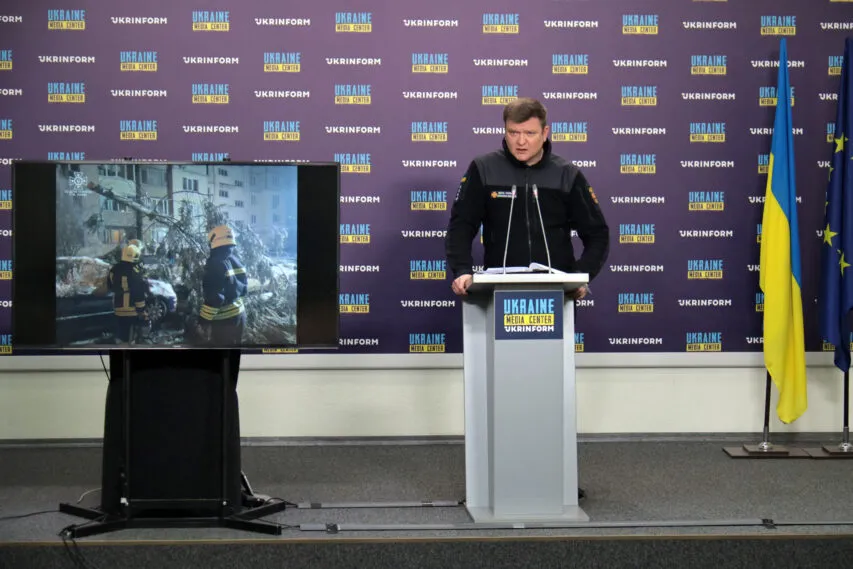 Oleksandr Khorunzhyy, Press Officer of the State Emergency Service, Media Center Ukraine – Ukrinform
March 30, 2023, 13:20
400 rescuers were involved in dealing with extreme weather effects in Ukraine – SES spokesman
Over two days on March 29-30, more than 400 rescuers and more than 100 pieces of equipment were engaged to eliminate the consequences of the severe weather outbreak.
Oleksandr Khorunzhyy, Press Officer of the State Emergency Service, made the relevant statement during a briefing at Media Center Ukraine – Ukrinform.
"One person was rescued during this period. 63 vehicles stuck on the roads, unable to make their way because of the slippery road, were towed. 64 fallen trees blocking the roadway were removed, 5 parts of roofs torn off by the wind, and several advertising structures that threatened people who might be nearby were dismantled," said the SES spokesman.
In addition, Oleksandr Khorunzhyy added that the most significant number of rescuers were deployed in Vinnytsia, Zhytomyr, and Cherkasy Oblasts.
According to the SES spokesman, rescuers managed to save the life of a woman who had fallen victim to the weather in the Odesa region.
"Unfortunately, due to wind gusts and wet snow, a woman was crushed by a falling tree on March 29, around 2 PM, in the Odesa region. Rescuers arrived at the scene, dismantled the tree, pulled the woman out from under it, and handed her over to an ambulance crew. She was taken to a local hospital with serious injuries."
Read more: https://mediacenter.org.ua/news