Back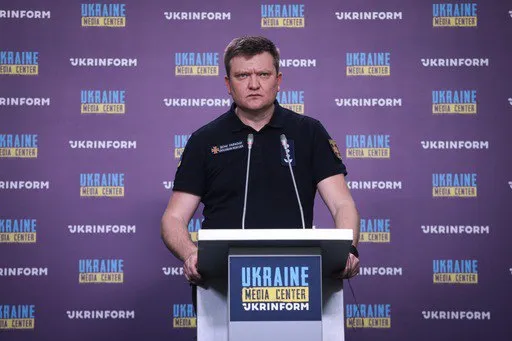 Oleksandr Khorunzhyy, Press Officer of the State Emergency Service, Media Center Ukraine – Ukrinform
June 16, 2023, 15:26
34 settlements remain flooded in Kherson region – Oleksandr Khorunzhyy
In the territory of Kherson region, 34 settlements remain flooded as a result of the occupiers' blowing up of the Kakhovka HPP. 17 are on the right bank and another 17 are in the temporarily occupied territory. 1,807 houses were flooded, 1,422 of them in Kherson.
Oleksandr Khorunzhyy, Press Officer of the State Emergency Service, made this statement during a briefing at Media Center Ukraine – Ukrinform.
At the same time, Oleksandr Khorunzhyy noted that there is a constant, gradual decrease in the water level on the Dnipro River near Kherson.
"And now it is at the mark of 1 meter 37 centimeters. In fact, it has decreased by 10 centimeters since the beginning of the day. And this trend continues," said the Press Officer.
Oleksandr Khorunzhyy also provided data on the evacuation of people and animals from Kherson region.
"Approximately 2,800 people and 268 animals were evacuated in Kherson region. In fact, 4 animals were evacuated in the past 24 hours. As for the psychological help, 398 people, and 7 people within 24 hours, received psychological help from the psychologists of the State Emergency Service," he said.
According to Oleksandr Khorunzhyy, the units of the State Emergency Service are currently actively using motor pumps to pump out water in Kherson region, in particular out of basements, homesteads and in lowlands.
"We have set up measures to pump water from 245 premises and already pumped out approximately 60,000 cubic meters of water. More than 22,000 cubic meters were pumped out of 88 rooms within 24 hours," he added.
In addition, the units of the State Emergency Service organized delivery of food, cleaning and supply of drinking water for the population, and the territory is being cleaned from the remains of oil lubricants.
As Oleksandr Khorunzhyy noted, 324 persons and 47 units of emergency services equipment have been involved in Kherson.
Read more: https://mediacenter.org.ua/news