Back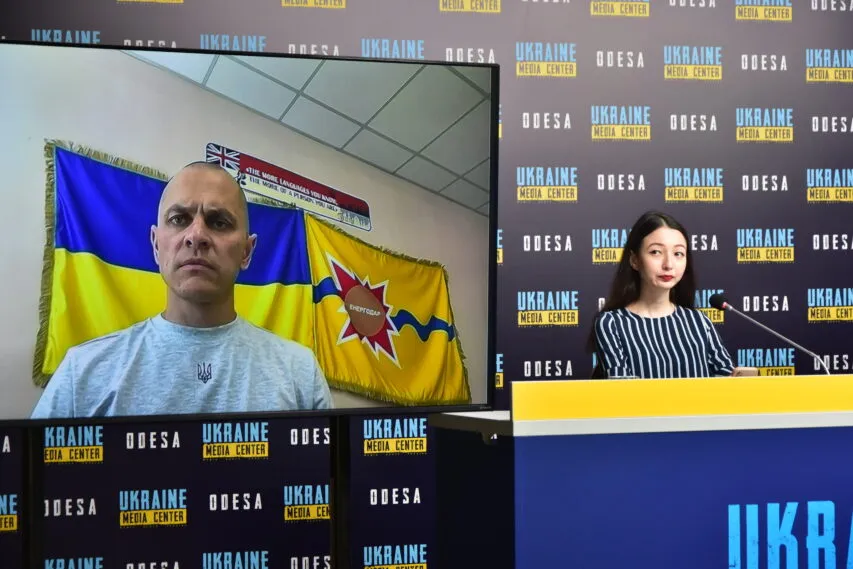 Photo by Media Center Ukraine – Odesa: Dmytro Orlov, mayor of Enerhodar; Yulia Khymerik, investigative journalist at Slidstvo.info
July 21, 2023, 16:05
2000–3000 workers left at ZNPP, occupants torture them and force cooperating – Mayor of Enerhodar
Before the full-scale invasion, there were 11,000 employees at the plant. This was stated by the mayor of Enerhodar, Dmytro Orlov, at a briefing at the Media Center Ukraine – Odesa.
"Now there are about 2,000-3,000 workers left at the plant. Before the war, there were 11,000 of them. Many of them did not sign contracts with the fake company from Rosatom, because these are critical personnel that the occupiers simply cannot replace. But they are trying to force people to sign contracts and take russian passports," – Orlov said.
He added that the forced distribution of russian passports has been going on for the second month, and, in his opinion, this is the most difficult period for the entire period of the city's occupation.
"The occupiers are going from apartment to apartment, taking people who do not have russian documents to torture chambers. Perhaps this is because of their unfortunate situation at the front. They realize that the Ukrainian Armed Forces are close by. People understand this and are waiting for liberation, especially the plant employees, who are forced by the occupiers to violate nuclear and radiation safety equipment and the terms of the SNRIU license… That is why the invaders are trying to contaminate the largest number of people with their war crimes," – Mr. Orlov said.
He added that there are about 1,000 military occupants with rmored vehicles at the plant. Also the perimeter of Zaporizhzhia NPP is minee, as well as the coast of the former Kakhovka reservoir. However, according to state owned company Energoatom, the water level in the plant's cooling pond remains within normal limits, Orlov added.
He also noted that despite everything, the situation with power and water supply in Enerhodar is stable. About 30 wells satisfy the needs in drinking water of the townspeople.
Read more: https://mediacenter.org.ua/news