Back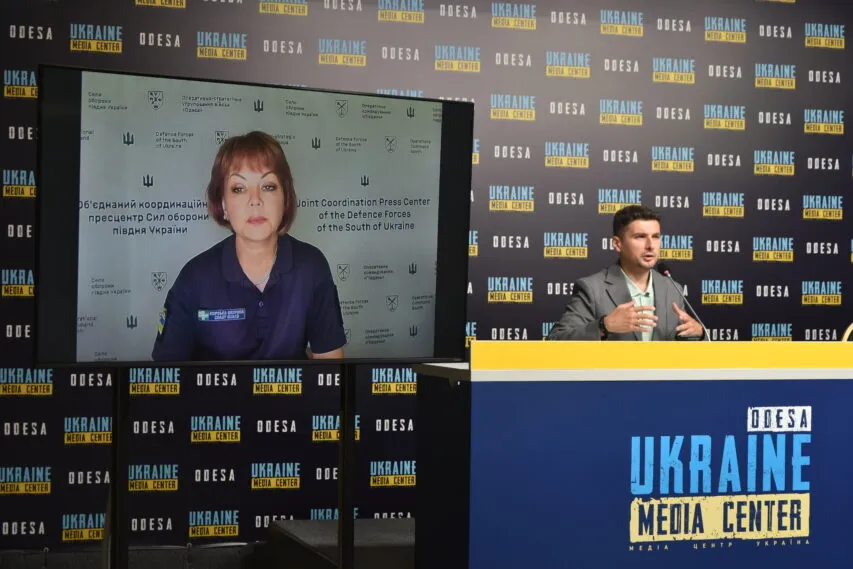 Photo by Media Center Ukraine – Odesa: Natalia Humeniuk, Head of the United Coordinating Press Center of Security and Defense Forces of the South of Ukraine
July 19, 2023, 13:33
10 people injured, including a nine-year-old boy on July 19 after air attack – Defense Forces of the South of Ukraine
People were mostly injured by shards of glass and other objects. This was stated by Natalia Humeniuk, Head of the United Coordinating Press Center of Security and Defense Forces of the South of Ukraine, at a briefing at the Media Center Ukraine – Odesa.
She noted that the attack was combined. The enemy used Kha-22, Kha-59, Oniks, Kalibr missiles and Shahed-136 drones, so it can be seen as an attempt to find new tactics.
"The enemy launched 12 Kalibrs, all of which were shot down. The invaders also used a coastal missile system from the temporarily occupied Crimea and hit Odesa region with Onyx, and strategic aviation struck with X-59 and X-22 missiles. Simultaneously with the missile attack, russians also launched Shahed-136 drones in the south. 8 drones were destroyed over Odesa region, 2 over Mykolaiv region. The debris damaged recreational infrastructure in the Koblevska community, two civilians were injured," – noted Humeniuk.
In Kherson, the enemy hit the Palace of Culture with drones and damaged a dormitory. One civilian was injured.
A Kha-59 was shot down on its approach to the coast and crashed in one of Odesa's neighborhoods, creating a large crater, the blast wave damaged several buildings around. Three civilians were injured, noted Humeniuk. The air strike also damaged a few residential buildings in Odesa's residential complexes. At least 6 residents of Odesa, including a 9-year-old boy, sought medical assistance.
She added that the enemy directed the Onyx and Kha-22 at the port and critical infrastructure. The missiles hit a grain and oil terminal, damaging tanks and loading equipment. A fire broke out, but there were no casualties. In Odesa district, an industrial facility was hit, where a civilian employee was injured and two warehouses with tobacco and fireworks were hit.
She added that although there are no missile carriers in the sea at the moment, one should not relax, because an attack is possible even in the absence of missile carriers at the launch lines.
Read more: https://mediacenter.org.ua/news