Back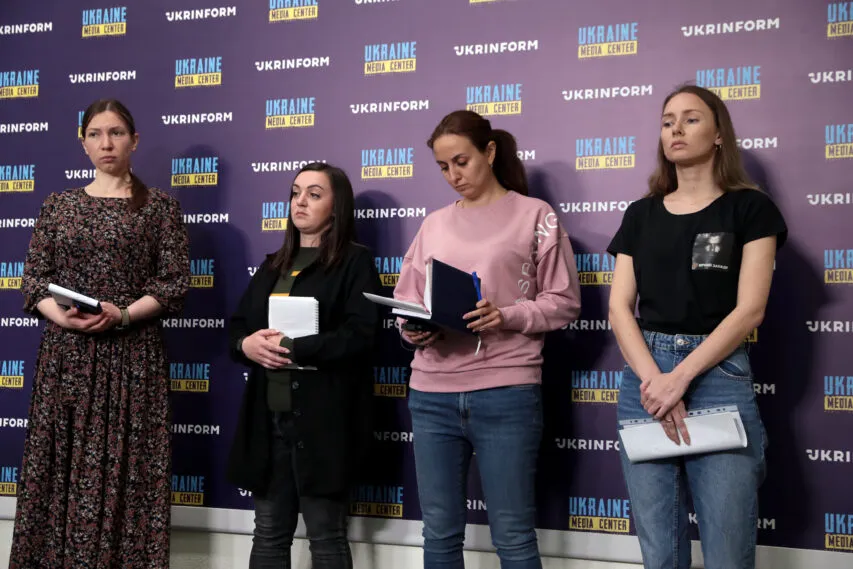 May 30, 2022, 14:46
Women of steel: families of Mariupol defenders create their own Council and call on global community to bring heroes home
The wives, mothers and sisters of the defenders of Mariupol and Azovstal Iron and Steelworks created their own Council, the goal of which is to mediate between the authorities and the families of the heroes as well as to coordinate their return home. The families of the soldiers asked not to forget about the heroes of Azovstal and called on the global community to influence russia, so the prisoners of war could return home, and humane conditions were maintained while they are in captivity, in accordance with the Geneva Convention. Last but not least, they called to return the bodies of the dead to their families and shed light on the fate of the missing military.
Nataliia Zarytska, wife of Azov regiment soldier, said at a briefing at Media Center Ukraine — Ukrinform.
"Our guys followed their order heroically. The next order was to lay down their arms and save their lives. We were waiting for the extraction. But the miracle did not happen. Therefore, we have to start a new stage of the struggle — for their return home. Ukrainian women are not born steel, we become like that when we fight alongside and for our men. Today we announce the formation of the Council of Wives and Mothers of Defenders of Ukraine — Women of Steel. This Council will be a mediator between families and the government. We are launching a telegram channel, as there is a lack of communication. Because all women who are waiting for their defenders at home do not know what to do, who to turn to," — she said.
Nataliia Zarytska noted that the last time her husband got in touch was on May 17. It is unknown at this time what happened to him. "On that day, May 17, I received a terrible message from my husband. Out of his 36 brothers-in-arms with whom he served in the same platoon, 24 were killed.
Seventeen of them were killed by a phosphorus bomb. These defenders were charred and only bones remained. Eight survivors were injured. They endured 82 days in such conditions."
Tetiana Kharko, sister of Serhii Volynskyi, commander of the 36th Separate Marine Brigade, said that her brother defended our state on Azovstal in Mariupol. He is dubbed "the eyes of war."
"The whole world is astonished by the actions of the defenders of this plant and this city. It was my brother who addressed Elon Musk, despite the fact that he has never been a public figure nor enjoyed talking about all the horrors of war. We were asked to remain silent not to make things worse, but we must not think that the story of Azovstal defenders is over. I urge everyone, all organizations, all bloggers, to talk about Azovstal heroes, so that the whole planet understands that they must be returned home. Every son, every parent has the right to return home," — she urged.
Sandra Krotevych, sister of major Bohdan Krotevych, Chief of Staff, First Deputy Commander of Azov regiment, also said that her brother had never dreamed of a military career, but with the start of the war in 2014, he abandoned his studies and went to defend his homeland as a real man. "Right now I don't know where my brother is. He was evacuated. But what condition he is in, how he is doing — it is unknown. I urge everyone not to be silent. This evacuation is not a return home, it is captivity! Everyone knows how russia treats prisoners." — she said.
Olena Chornobay, wife of a serviceman of Donetsk Border Detachment, noted that her husband and colleagues were defending the city of Mariupol.
"He has been in the military since 2016. All this time he has served with dignity and honor. He said that an enemy shell flew into their building on Azovstal, but fortunately it did not explode. My husband already had two injuries, but hadn't received proper treatment. And even so, he did not give up. Along with other defenders he continued to protect the city. We demand that the rules of the Geneva Conventions be observed and we ask that all our heroic heroes be brought home.
We also ask international organizations to return the bodies of the dead home and resolve the issue with the missing," — she said.
As reported earlier, Volodymyr Zelenskyy stated that Kyiv was ready to exchange prisoners, and called on international allies to put pressure on moscow.
The fate of more than 2,000 Ukrainian Azovstal fighters who surrendered to the russians as a result of the talks remains unknown.
Read more: https://mediacenter.org.ua/news