Back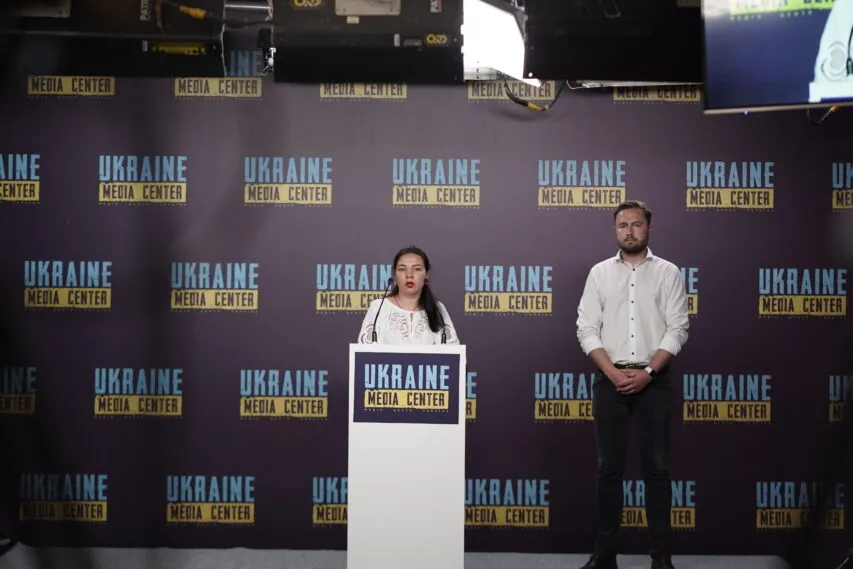 Ольга Мартиновська, волонтерка громадського холдингу «Група впливу» та Олександр Кулепін, заступник начальника Львівської ОВА з питань цифровізації у Медіацентрі Україна, 1 липня
July 1, 2022, 15:07
Volunteers need to exchange contacts and experience. Results of Summit of Volunteering and Humanitarian Initiatives in Lviv Oblast
More than 200 volunteers and representatives of public organizations took part in the Summit of Volunteering and Humanitarian Initiatives in Lviv Oblast. The purpose of the event was to exchange the experience between all participants. Oleksandr Kulepin, Deputy Head of Lviv Oblast Military Administration in Charge of Digitalization spoke about this during a briefing at Media Center Ukraine.
"We see that volunteers need support, exchange of contacts, exchange of experience, and training. We really wanted small volunteer organizations to learn from large volunteer organizations to avoid mistakes in legal aspects, so the law enforcement agencies wouldn't have any questions for them. We wanted to talk to them about what we, as the government (representatives), can improve," — Oleksandr Kulepin said.
According to Olha Martynovska, a volunteer of Grupa Vplyvu (Impact Group) Civic Holding, the summit provided an opportunity to unite the efforts of volunteers and the authorities. After all, the challenges they face are constantly changing.
"We already have a road map that will help speed up the delivery of assistance to the final beneficiaries. Because the needs of people 3 months ago are very different from what people need today," — Olha Martynovska explained.
The Summit of Volunteering and Humanitarian Initiatives, which brought together 200 representatives of public and donor organizations, began in Lviv region on June 30. Summit participants include Robert Post, Press, Education and Culture Attaché of the U. S. Embassy to Ukraine, USAID, journalists, representatives of the Global Fund for Women, People in Need, Renaissance organizations.
Read more: https://mediacenter.org.ua/news