Back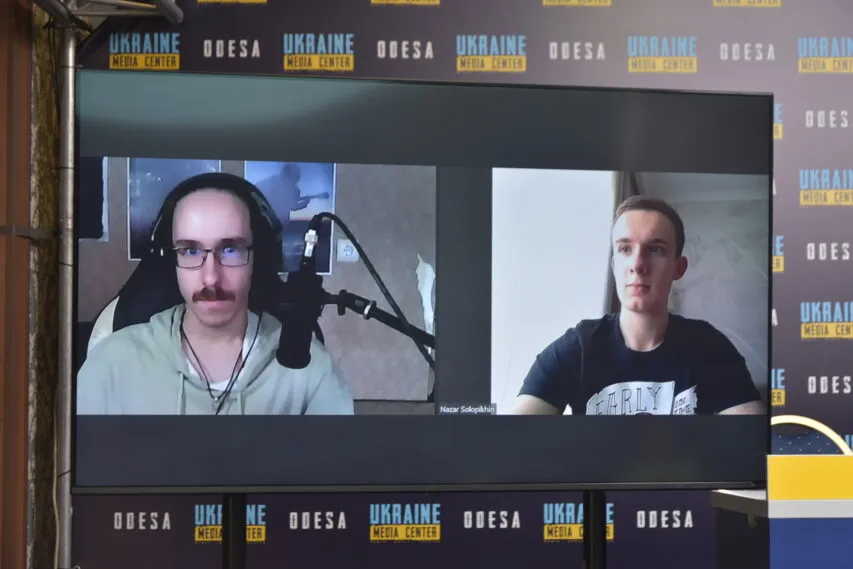 Photo by Media Center Ukraine – Odesa: Ihor Melikhov, coordinator of the Ukrainian team; Nazar Solopikhin, gold medalist of the international IT competition Infomatrix-2023
July 6, 2023, 14:15
Ukrainian schoolchildren win 14 medals at international computer competition with projects on war and ecology
Due to the full-scale invasion, the Ukrainian team participated online. Ihor Melikhov, coordinator of the Ukrainian team, said this at a briefing at the Media Center Ukraine – Odesa.
"Infomatrix-2023 is an annual computer project competition for schoolchildren. For the third time in a row, it was held at the Autonomous University of Guadalajara in Mexico, with teams from more than 20 countries participating. The Ukrainian team participated in all six nominations: computer art, hardware management, programming, short film, and science popularization. And our team won 14 medals," Ihor Melikhov said.
Yulia Butuk, a schoolgirl from Odesa, has already participated in the competition three times in the computer art category.
"It was a three-part cartoon called "Friendship" about Flower-Love, who helped Cherry win the Paralympic Games. But it was not the cartoon itself that was interesting, but the story of its creation. After all, I made it during blackouts, and at the competition I told more about how it was created in such conditions. When everyone wanted to charge their gadgets or cook, I wanted to finish the cartoon," Yulia Butuk said.
Nazar Solopikhin, a gold medalist at the Infomatrix-2023 international computer project competition, participated in the competition for the first time and also in the computer art nomination.
"I created a Lego animation about the production of Carpathian beech forests called 'Trees are the lungs of our planet' and won a gold medal," – Solopikhin said.
Ihor Melikhov added that many Ukrainian projects were dedicated to the war.
"For example, it was a short film about a girl who is looking for her dog, who ran away because of an explosion. The work was dedicated to stray animals that appeared in Ukraine because of the war. Artem Krysko, a young man from Nizhyn, won a gold medal in the Hardware Management category with his project on the Antishahid system for detecting and neutralizing drones. We even thought that because of the war, we would get lower grades, but this did not happen," – the teacher said.
Read more: https://mediacenter.org.ua/news