Back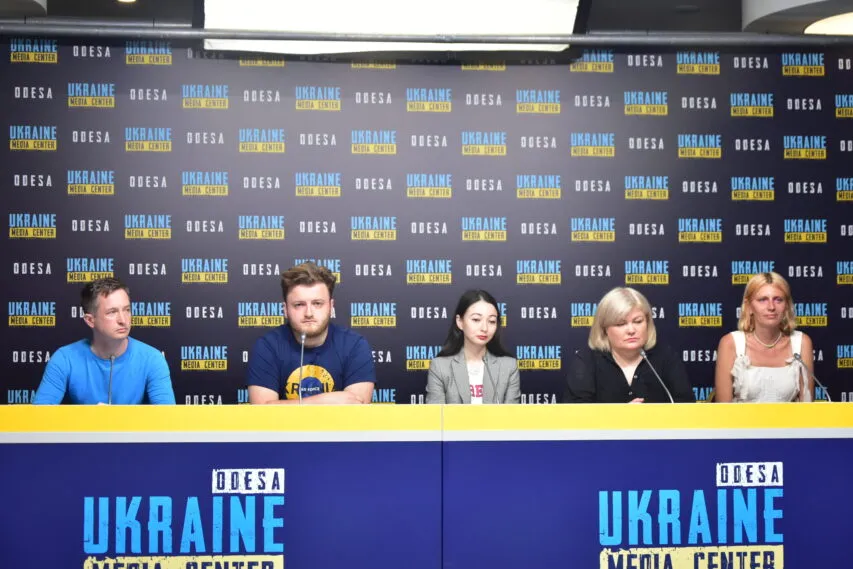 Photo by Media Center Ukraine – Odesa: Artem Perfilov, fixer, journalist; Bohdan Maksymets, journalist; Yulia Khymeryk, freelancer; Olena Rotary, journalist; Olena Solomonova, journalist, Odesa Online
May 23, 2023, 14:11
Ukrainian and foreign media journalists and fixers opposed the dismissal of press-officer of Kherson Dmytro Pletenchuk
They think, he was dismissed from his position because of a Facebook post on May 22 about the downing of a Russian SU-35 aircraft, which caused outrage among Ukrainian journalists who worked with the officer. They stated this at a briefing at the Media Center Ukraine – Odesa.
According to Artem Perfilov, a fixer, Dmytro Pletenchuk was one of the few press officers with whom it was convenient and effective to work.
"We have some special rules in our region, in the South, and we are not always satisfied with the answers from OC"Pivden"," – Perfilov said.
According to journalist Bohdan Maksymets, Dmytro Pletenchuk tried to express not only the fighting, but also the war crimes of the russians. 
"Everyone remembers his photo with the Ukrainian flag in front of the destroyed building of the Mykolaiv Regional Military Administration. This photo was probably taken by thousands of media outlets… You could call Dmytro at any time and get the information you needed. The man worked as efficiently as possible in his position," – the journalist added.
Freelancer Yulia Khymeryk denied rumors that Dmytro Pletenchuk himself had asked journalists to speak in his support.
"If he is fired, the information front in the south will fail. He helped with contacts … Dmytro did everything to ensure that people received information from official sources, not from russian social media and telegram channels," – Yulia Khymeryk noted.
Journalist Olena Rotary added that the position of journalists in support of Dmytro is also a demonstration of the need for the journalistic community to have access to up-to-date and official information.
Olena Solomonova, journalist of Odesa Online, noted that she worked in Donetsk, Kharkiv, Kherson, and Odesa regions.
"In the South, communication with the media was not the best, but Dmytro worked very effectively," – she added.
According to Natalia Humenyuk, head of the Joint Coordination Press Center of the Southern Defense Forces, "Dmytro Pletenchuk's assignment is over. He has returned to his regular duties. Another press officer works with journalists in the Kherson direction now. The consequences are being investigated by the military audit."
Read more: https://mediacenter.org.ua/news