Back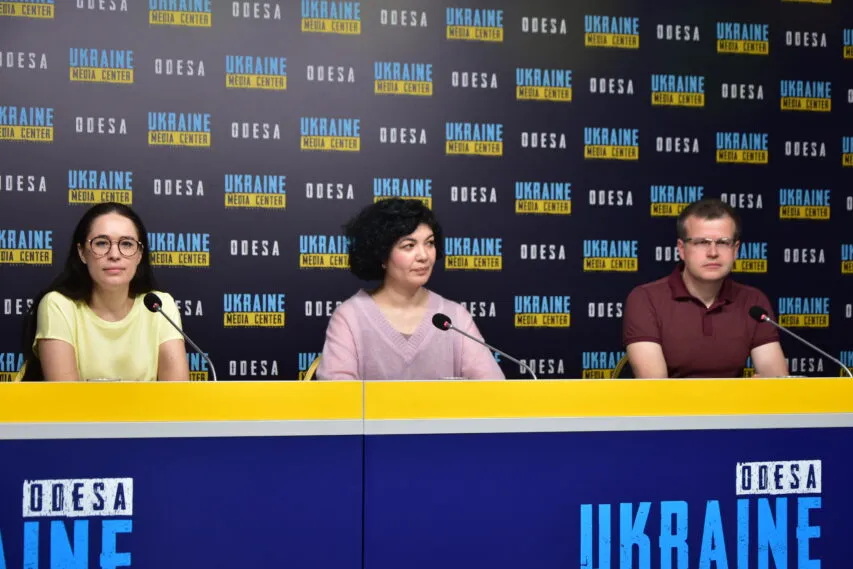 Photo by Media Center Ukraine – Odesa: Hanna Shelest, director of security programs at the Foreign Policy Council "Ukrainian Prism", PhD; Tamila Tasheva, permanent representative of Mission of the President of Ukraine in the Autonomous Republic of Crimea; Borys Kormych, head of the department of maritime and customs law at the "Odesa Law Academy" national university, editor-in-chief of the Lex Portus magazine
June 30, 2023, 16:04
Ukraine will not demilitarize Crimea immediately after de-occupation – President's Representative in Crimea
The capabilities of the Armed Forces of Ukraine on the peninsula after its de-occupation will need to be strengthened. This was stated by Tamila Tasheva, Permanent Representative of the President of Ukraine in the Autonomous Republic of Crimea, at a briefing at the Ukraine-Odesa Media Center.
"We are demilitarizing Crimea from the russians. And we have to strengthen the Armed Forces of Ukraine, in particular, the naval forces on the peninsula, because in the near future Russia will not disappear. And in Crimea, we will need to combine the military and civilian components as efficiently as possible," – Tasheva said.
Borys Kormych, Head of the Maritime and Customs Law Department at the National University "Odesa Law Academy", noted that it will not be possible to return Crimea and its economic role to the pre-war state. In particular, the fate of the peninsula's ports should be decided by business.
"Business, in particular, maritime transportation, has already reoriented and adapted to the circumstances three times. The first time was when we lost the Crimean ports after 2014. The second time was when the Russians actually blocked our Azov ports. The third time was when the full-scale invasion began," – the expert noted.
In his opinion, Ukraine will need to solve similar issues in Crimea as after the de-occupation of Kherson – a lot of property will be stolen, many will be destroyed, and the rest will be mined.
"We will need maritime business expertise and vision. Some ports will need to be restored, and some will need to look for new formats. Like in London or Barcelona, where some port facilities have been transformed into technology parks, public spaces, etc.", – Kormych said.
Hanna Shelest, Director of Security Programs at the Foreign Policy Council "Ukrainian Prism", believes that the format of militarization of the de-occupied Crimea should be decided by the military.
"It is they who should say whether it is expedient to keep military bases in Crimea, if we have been building them in Ochakiv, Berdiansk and Odesa for 9 years. Perhaps they will say that due to certain conditions they need only one in Sevastopol. Perhaps the military will say that only air defense forces are needed on the peninsula. Or the navy is not needed, and the coast will be protected by the Border Guard Service. There are many such questions, and the military must answer them," – Shelest said.
In her opinion, the issue of militarization or demilitarization of Crimea will take years to resolve.
Read more: https://mediacenter.org.ua/news