Back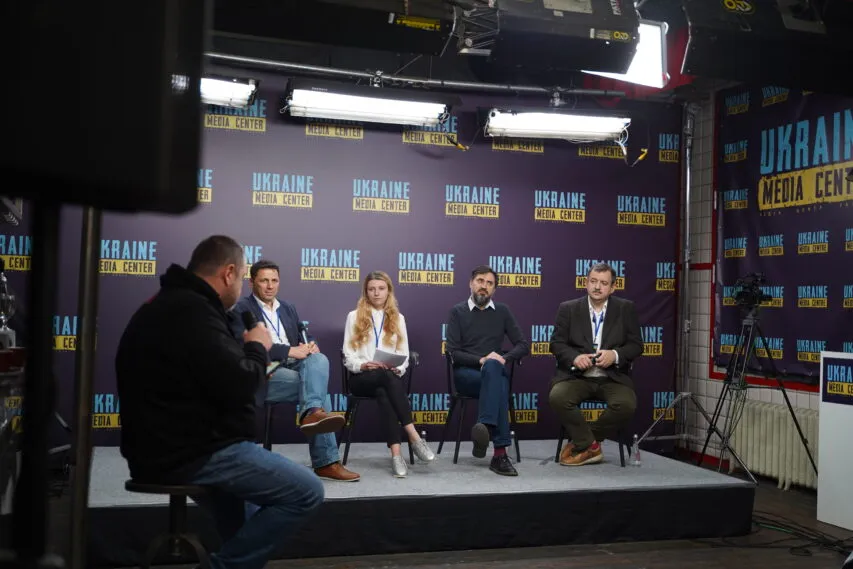 Учасники дискусії, Медіацентр Україна
September 27, 2022, 17:56
"Ukraine's energy sustainability during the war and after the victory": a discussion took place at Media Center Ukraine
The situation in the energy sector before the start of the heating season, the environmental damage wrought by the war, and what needs to be done to minimize it. These issues were discussed at Media Center Ukraine by Andrii Martyniuk, Executive Director at Ecoclub NGO; Sviatoslav Pavliuk, Executive Director at Association Energy Efficient Cities of Ukraine; Nataliia Kholodova, an expert at Ecoclub NGO, and Oleksii Pasiuk, Deputy Director at Ecodiia NGO.
The most interesting quotes from the speakers follow below:
Andrii Martyniuk, Executive Director at Ecoclub NGO, talked about the risks for Ukraine's environment that winter will bring during the war:
"We can see what happened in the countries that survived wars several dozen years ago: Armenia, Georgia, Azerbaijan. They felled all parks and forests to survive the winter. This is not what we would like to see in Ukraine. We can see that firewood became more expensive because the army needed it. Also, the price went up because gas has also become more expensive. Generally, I would like us to preserve the parts of forests that are important for biodiversity."
Sviatoslav Pavliuk, Executive Director at the Energy Efficient Cities of Ukraine Association, presented the steps that will enable the country to survive the winter:
"For several years, installing own solar power plants on rooftops of industrial facilities supplies the industries with electric power comparable with or cheaper than the grid power, especially during the peak hours. Thus, the trend toward installing standalone solar power plants has come into existence and will continue. Municipalities that focus on energy efficiency and have invested in the technologies will need less fuel or electric power during the forthcoming heating season. Accordingly, those municipalities that did not do that do not know what to do."
Natalia Kholodova, Expert at Ecoclub NGU coordinating the information campaign to prepare the Ukrainians for the 2022-2023 winter, spoke about the personal preparedness for the heating season.
"It is important for residents of apartment blocks to do everything to reduce their heat losses. Check your windows, adjust your plastic windows, install thermally reflective screens, and check your staircases for the absence of any openings to make sure there are no major losses of heat… And don't put makeshift stoves in your apartment. Cast-iron stoves are associated with more risks than benefits.
Oleksii Pasiuk, Deputy Director at Ecodiia NGO, talked about this year's winter:
"It will depend on what russia will do and what consequences for the power supply infrastructure it will have. Theoretically, the areas under Ukraine's control can survive this winter without problems. However, we are living at war, and some portion of infrastructure can get destroyed at any time, and we don't know it in advance… I believe that, in this situation, it is important to evacuate if something goes wrong; in fact, it would be a good idea to evacuate an area where the infrastructure can be expected to be destroyed without waiting for anything to go wrong.
The event was sponsored by the Environmental Policy and Advocacy Initiative for Ukraine (EPAUI) of the International Renaissance Foundation, which is implemented with the financial support of Sweden.
Read more: https://mediacenter.org.ua/news