Back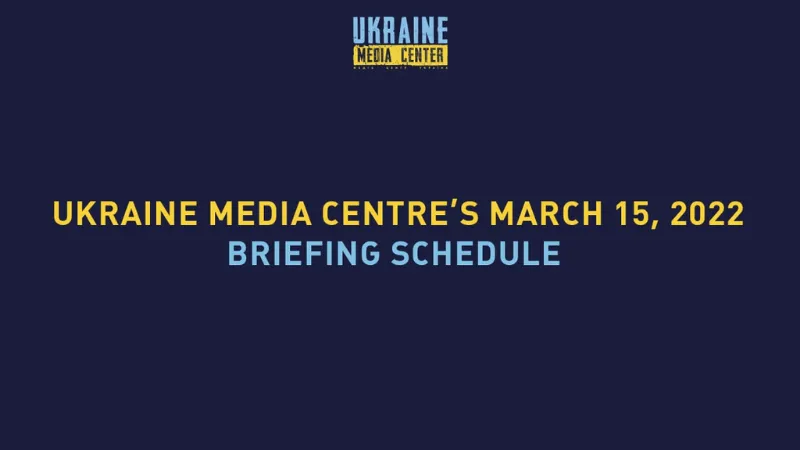 March 14, 2022, 19:53
UPDATED Ukraine Media Centre's March 15, 2022, Briefing Schedule (Lviv, 32 Ploshcha Rynok) 
11:00 AM German Galushchenko, Minister of Energy of Ukraine (overview of the situation in Ukraine's energy sector) POSTPONED, APPROXIMATELY FOR WEDNESDAY
11:30 AM Petro Kotin, Head of Energoatom National Nuclear Energy Company (overview of the situation at the Ukrainian nuclear power plants)
12:00 PM Iryna Venedyktova, Prosecutor General of Ukraine (overview of Russian war crimes in Ukraine)
12:30 Ruslan Strilets—Acting Minister of Environmental Protection and Natural Resources of Ukraine,
Virginijus Sinkevičius—European Commissioner for Environmental Protection and Oceans (overview of potential environmental hazards resulting from the Russian aggression)
1:00 PM Tetiana Lomakina, President's Envoy on Humanitarian Corridors (overview the humanitarian situation in Mariupol and others)
2:00 PM Yevhen Boiko, chair of Lviv City Evacuation Commission, Oleh Malets, Head of the Volunteer Headquarters under Lviv City Council (overview of the humanitarian situation in Lviv).
15:00 Denys Monastyrskyi—Minister of Internal Affairs of Ukraine (security situation in Ukraine)
The Briefing Schedule is subject to change.
Please subscribe to our social media accounts:
The Media Centre will function as a co-working space from 10:00 AM to 8:00 PM.
Contact us at:
+38 067 652 91 97