Back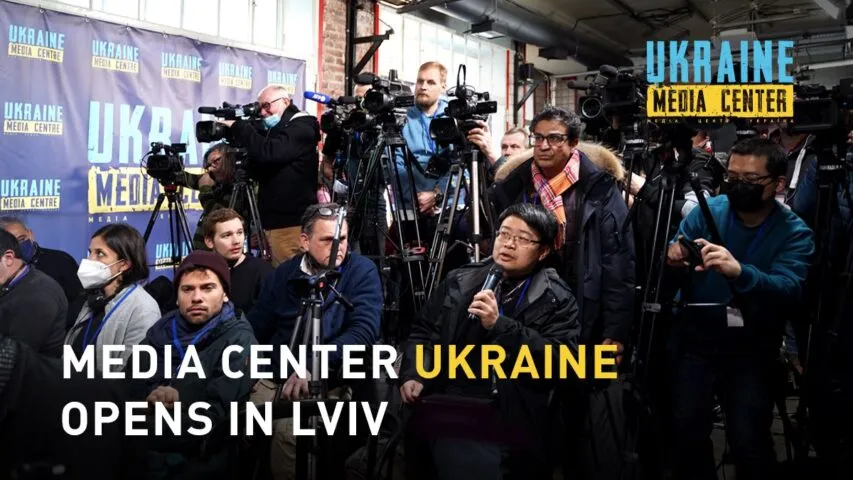 March 14, 2022, 12:04
Ukraine Media Centre Opens Its Doors in Lviv
Ukraine Media Centre started working in Lviv to help the media cover the war unleashed by Russia against the Ukrainian people.
"This Media Centre is launched as a joint initiative of willing representatives of the media community, volunteers, active citizens, business, and Ukrainian government agencies of various levels, including both the Office of the President of Ukraine and local governments. It shows us that Ukrainians are getting together for achieving ambitious goals," the Centre's coordinator Andrii Shevchenko, a former journalist and Ukraine's ambassador to Canada, stated at the opening ceremony of Ukraine Media Centre.
The Media Centre will operate in the centre of Lviv at 32 Ploshcha Rynok. It will provide information support to journalists currently working in the City of Lviv and Lviv Oblast. In addition, the Centre will host daily press briefings by government officials, international partners, and activists from Lviv and other cities of Ukraine. They will cover all the important events in Ukraine's ongoing resistance against Russian aggression. Outside the briefing hours, the Centre will operate as a co-working space for journalists.
You can track the Media Centre's work via its:
Website: https://mediacenter.org.ua
Telegram channel: https://t.me/lvivmediacenter
Twitter handle: https://twitter.com/CenterUkraine