Back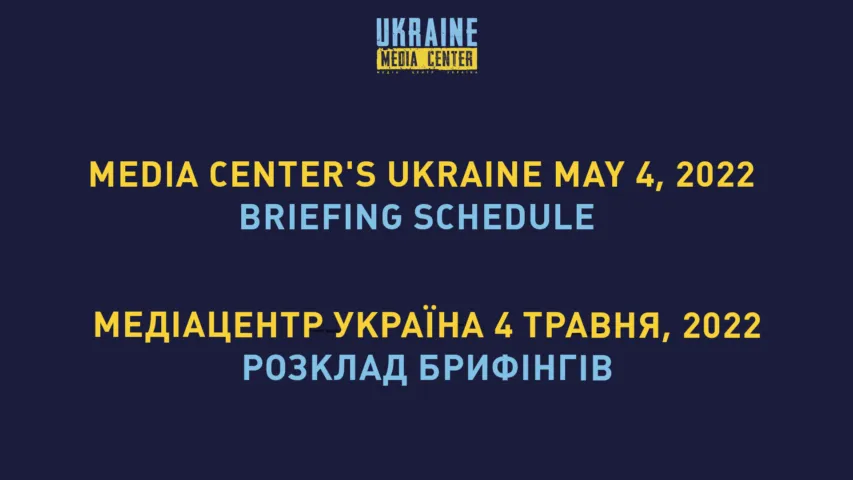 May 3, 2022, 19:34
!!! UPDATED Ukraine Media Center's May 4, 2022, Briefing Schedule (32 Rynok Sq., Lviv)
10:30 АM – URGENT BRIEFING

Maksym Kozytskyy, Head of Lviv Oblast Military Administration
Andriy Sadovyi, Mayor of Lviv

Topic: Consequences of a missile strike on Lviv
12:30 PM – Oleksandr Shevchenko, head of Ukraine SOS NGO;
Kiel Hendricks — director of operations Ukraine SOS/Task Force Yankee: Ukraine (both in person)
Current issues:
humanitarian situation in Kharkiv;
work of volunteers in hot spots;
current problems of military units support.
Why this is important:
Ukraine SOS NGO is one of the most effective volunteer groups focused on activities in Kharkiv and Donbas. As of today, Ukraine SOS has delivered 243 tons of humanitarian aid to Kharkiv, and its call center located in Lviv has processed 11,359 applications. The NGO is engaged in evacuation, finding shelters, delivery of medicines, products, medical equipment, and cars for the military from Poland, Sweden, Germany, France, Latvia, Lithuania and Israel.
UPDATED TIME! 2:00 PM – Vitaliy Kim, Head of Mykolaiv Oblast Military Administration (online)
Current issues:
conduct of hostilities in the Mykolaiv oblast;
humanitarian situation in the region;
solving the water supply issue in the oblast.
2:30 PM – ANTYTILA band (online)
Topic:
ANTYTILA and world-renowned British musician Ed Sheeran presented a joint song, called «2Step» consisting of two parts: in English and in Ukrainian. According to ANTYTILA band leader Taras Topolya, Ukrainian lyrics are his personal story of the first day of the war. In less than a day, the song gathered more than 1,000,000 views.
The song video is available at: https://www.youtube.com/watch?v=OJ2B4Fb7xQQ
Interesting: ANTYTILA band, which has been defending Ukraine in the ranks of the territorial defense forces since the first days of the war, is now in the Kharkiv oblast, together with its battalion.
The briefing schedule is subject to change.
Read more: https://mediacenter.org.ua/news