Back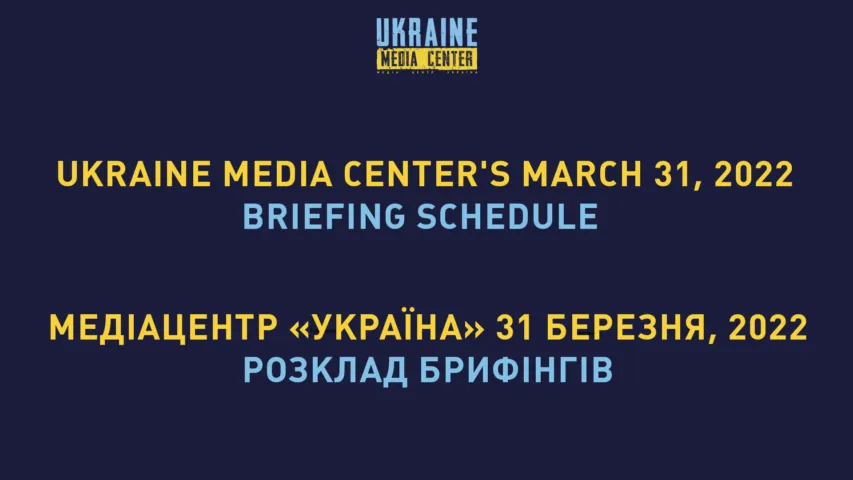 March 30, 2022, 18:35
Ukraine Media Center's March 31, 2022, Briefing Schedule (32 Rynok Sq., Lviv)
12:30 PM – SPECIAL EVENT
Opening of «Call the War and War: russian Crimes against the Media in Ukraine since February 24, 2022» exhibition.The project aims to tell the story of journalists who died, were captured or persecuted as a result of the war.
Participants: Hromadske journalist Mariana Pietsukh; Radio Svoboda journalist Halyna Tereshchuk; UA:Ukrainian Radio General Producer Dmytro Khorkin; political scientist, friend of the killed US journalist Brent Renaud, Mykola Davydyuk, and others.
Location: Rynok Sq., in front of the entrance to Ukraine Media Center
For more information about the exhibition, see https://fb.me/e/3bB7ysLe2
1:30 PM – Iryna Vereshchuk, Vice Prime Minister—Minister for the Reintegration of Temporarily Occupied Territories of Ukraine (online)
Current subjects:
operation of humanitarian corridors

the humanitarian situation in the country in general
An opportunity to ask questions.
2:30 PM – SPECIAL EVENT
Informal closed briefing by Oleksandr Arhat (Militarnyi portal) on the situation on the fronts of the russian-Ukrainian war (in person)
The second briefing on the military situation (the first one took place on March 25) will focus on the last week's changes on the fronts.
Introduction to the geography of hostilities.
How has the situation on the fronts changed over the last week?
Types of missiles the enemy uses against Ukraine?
What does one need to know to understand the peculiarities of warfare on land, at sea and in the sky?
The briefing will not be broadcasted or recorded.The number of seats is limited. To participate, please fill in the form: https://forms.gle/XCQU5SVKQbLBrRop6
The briefing schedule is subject to changes and updates. Stay tuned!
Please follow our updates at:
facebook.com/UkraineMediaCenter/
The Media Center will function as a co-working space from 10:00 AM to 8:00 PM.
Contact us at:
+38 067 652 91 97