Back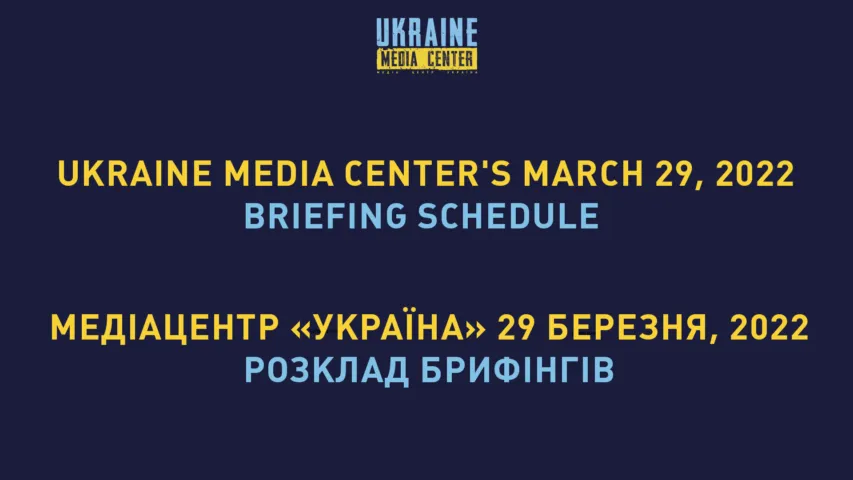 March 28, 2022, 18:10
Ukraine Media Center's March 29, 2022, Briefing Schedule (32 Rynok Sq., Lviv)
12:30 PM – Tamila Tasheva, Deputy Representative of the President of Ukraine in the Autonomous Republic of Crimea, Crimean Tatar human rights activist; Maria Tomak, Head of the Service for the Support of Crimea Platform (in person)
Current issues:
how russia uses Crimea as a springboard to attack Ukraine
repressions against the Crimean Tatars
work of the Crimea Platform during the war
1:30 PM – Serhiy Prytula, public and political figure, volunteer (online)
Current issues:
Ukraine's volunteer movement – how to help Ukraine
Serhiy Prytula's volunteer project: what has been done for the victory so far
2:30 PM – Presentation of CinemAid global cinema marathon in support of Ukraine
Maryna Kudrechuk (Head of the Ukrainian State Film Agency);
Artem Koliubaiev (Head of the Council for State Support of Cinematography;
Andrii Rizol (Chairman of the Board of «Dyvys Ukrainske!» (Watch Ukrainian!) Association);
Andriy Nogin (Head of «UkrKinoFest» Public Organization)
(in person)
CinemAid is an initiative of the Ukrainian State Film Agency and a number of specialized public organizations. As part of CinemAid, almost 80 Ukrainian feature and short movies will be shown in various cities around the world. The raised funds will be donated to three areas of support for Ukraine: the Come Back Alive Foundation, support for the country's film industry during martial law, and assistance to war-affected filmmakers and their families.
The briefing schedule is subject to changes and updates. Stay tuned!
Please follow our updates at:
facebook.com/UkraineMediaCenter/
The Media Center will function as a co-working space from 10:00 AM to 8:00 PM.
Contact us at:
+38 067 652 91 97