Back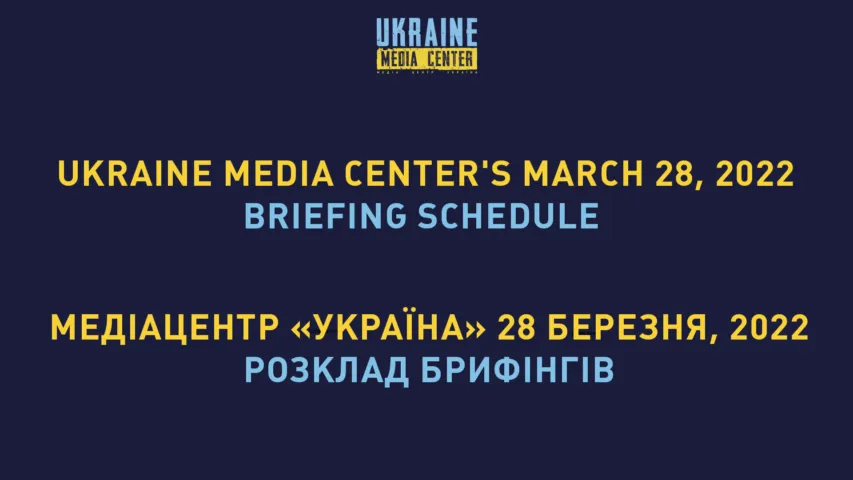 March 27, 2022, 18:21
Ukraine Media Center's March 28, 2022, Briefing Schedule (32 Rynok Sq., Lviv)
11:30 AM—Yurii Shchyhol, Head of the State Service of Special Communication and Information Protection of Ukraine (online)
The State Service of Special Communication and Information Protection is in charge of cybersecurity in Ukraine. The Service Head will tell about cyberattacks of the enemy during the war and actions taken by Ukraine in the field of information protection. He also will explain how Ukraine managed to keep communication and Internet connections reliably intact despite attacks against infrastructure.
Questions can be asked from the briefing room.
12:30 PM—Oleksandr Khorunzhyy, Press Officer of the State Emergency Service of Ukraine (in person)
Elimination of consequences of the missile attack on Lviv
1:30 PM INFORMAL MEETING
A discussion of the media work during wartime.
Preliminary list of participants:
Roksolana Yavorska, Speaker of the State Security Service (SBU) 
Otar Dovzhenko, Media Expert 
Oksana Kozak, Press Service of the State Emergency Service of Ukraine
Taras Ishchyk, Speaker of the Territorial Defense Force, Communication Advisor to the 103rd TDF Brigade
Alexander Query, Reporters Without Borders 
The meeting will be held off the record.
2:30 AM—Serhiy Shkarlet, Minister of Education and Science of Ukraine (online)
Major subjects:
the condition of the education system in the wartime
specific features of the admission to higher education institutions
the procedure for the External Independent Test (for all the Ukrainian schoolchildren)
the organization of online studies.
The briefing schedule is subject to change.
Please follow our updates at:
Stay tuned!
facebook.com/UkraineMediaCenter/
The Media Center will function as a co-working space from 10:00 AM to 8:00 PM.
Contact us at:
+38 067 652 91 97