Back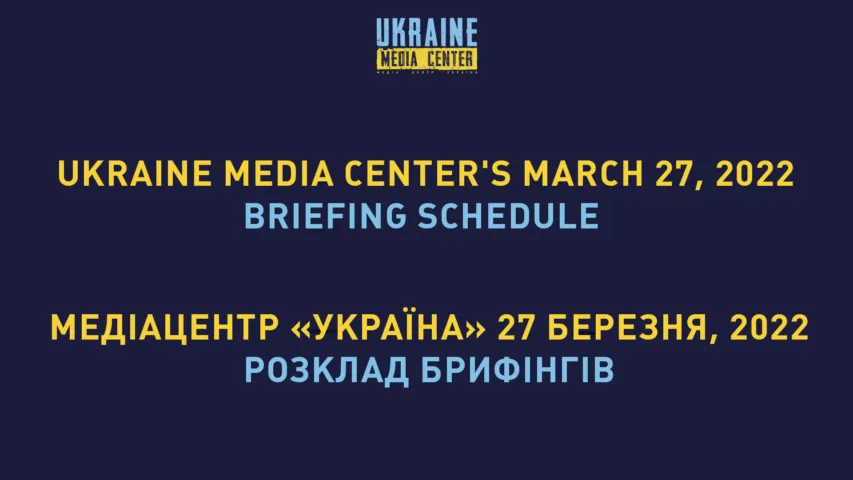 March 27, 2022, 09:22
Ukraine Media Center's March 27, 2022, Briefing Schedule (32 Rynok Sq., Lviv)
11:30 AM – Anastasiia Pustovit, famous Ukrainian actress (in person)
Anastasiia Pustovit, a resident of Nemishayevo village (Bucha district, Kyiv region), spent several days in the hell of russian occupation.
She will tell:
how the russians used civilians as human shields;
how the occupiers killed innocent people;
how they shot at the evacuation columns; and
how she managed to escape from the hell of the russian occupation.
Throughout her stay in the combat zone, Anastasiia, along with other volunteers, tried to provide medical care to the wounded civilians.
More information about Anastasiia as a famous theater and film actress: https://bit.ly/3wBo17D
12:30 PM – «Beton» (Concrete) band (in person)
Lviv rock band «Beton» became famous around the world thanks to the «London Calling» cover by the legendary The Clash. This cover with the modified lyrics is called Kyiv Calling.
The band members will tell about the history of the cover and will play for the media.
The story about the band and the song are available at: https://bit.ly/3DfqbuN
The briefing schedule is subject to changes and updates. Stay tuned!
Please follow our updates at:
facebook.com/UkraineMediaCenter/
The Media Center will function as a co-working space from 10:00 AM to 8:00 PM.
Contact us at:
+38 067 652 91 97