Back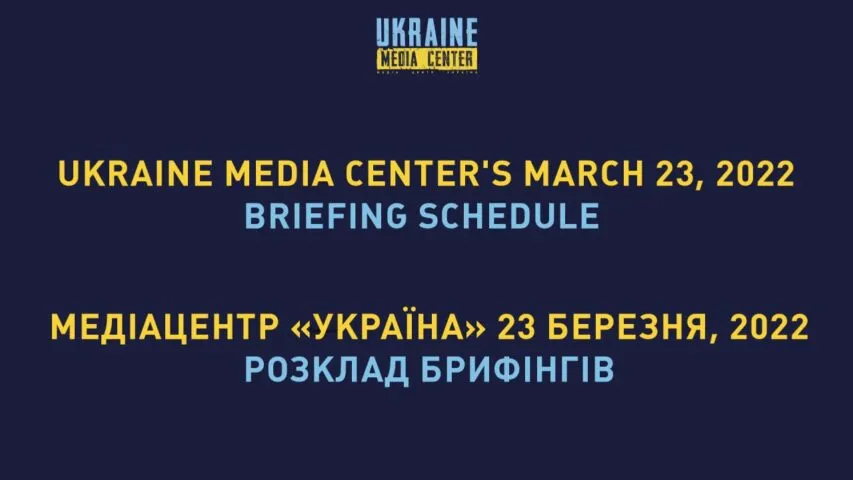 March 22, 2022, 21:30
Ukraine Media Center's March 23, 2022, PRELIMINARY Briefing Schedule (32 Rynok Sq., Lviv)
12:30 PM – Antonii Baryshevskyi, Oleksii Semenenko, and Orest Smovz, Ukrainian musicians, performers of The Unplayed Concert (in person)
«The Unplayed Concert» is an initiative by leading Ukrainian musicians who will play several concerts around the country. The first one will take place on March 24 at the Lviv Philharmonic. The goal of the musicians is to raise money to support colleagues affected by the war. Among others, pieces by Borys Lyatoshynsky, who wrote music during the evacuation at the times of World War II, and Olivier Messian, who wrote music in a concentration camp, will be part of «The Unplayed Concert».
13:30 РМ – Oleg Sentsov, award-winning filmmaker (online)
After annexation of Crimea Mr. Sentsov spent over 5 years in Russian prison and was released after a massive international campaign. He currently serves with the territorial defence.
Mr. Sentsov will take questions from the Lviv venue @ 32 Rynok Sq.
2:30 PM – Anton Korynevych, international law scholar, Permanent Representative of the President of Ukraine in the Autonomous Republic of Crimea, Agent of Ukraine before the International Court of Justice (online)
Current issues:
Cases against russia in international courts
Situation in the Crimean peninsula
Additional events are planned and will be announced in due course. Stay tuned!
Please follow our updates at:
mediacenter.org.ua
twitter.com/CenterUkraine
t.me/lvivmediacenter
facebook.com/UkraineMediaCenter/
The Media Center will function as a co-working space from 10:00 AM to 8:00 PM.
Contact us at:
+38 067 652 91 97