Back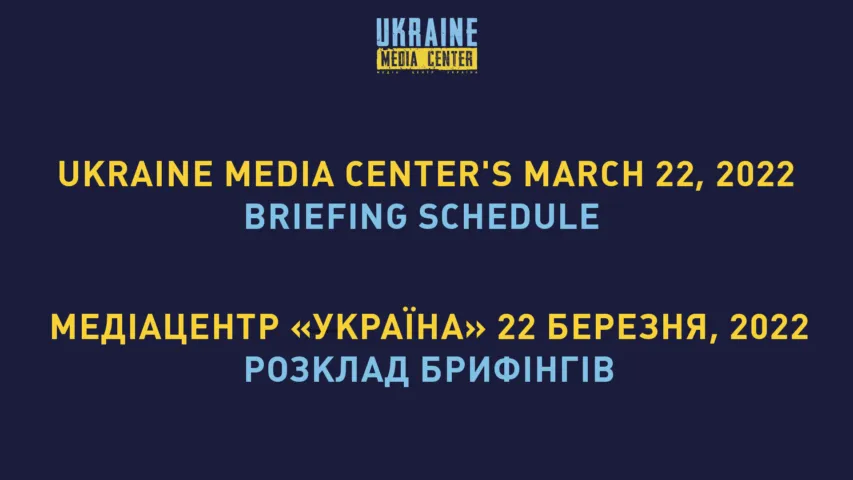 March 22, 2022, 10:48
Ukraine Media Center's March 22, 2022, UPDATED Briefing Schedule (32 Rynok Sq., Lviv)
12:30 PM – Andriy Moskalenko, First Deputy Mayor of Lviv (in person)
Current issues:
1. Job search assistance and legal advice for forcibly displaced persons in Lviv
2. Lviv business support program
3. The city's economy during the wartime
1:30 PM—Andrii Liakhovych—Commissioner of the President of Ukraine for the Interaction with Civic Associations and Volunteer Formations Engaged in National Defense (online)
Topic:
Territorial defense and volunteer battalions—current status
2:30 PM—Pavlo Nemeriuk, Vlad Yaremchuk, Co-organizers of Save Ukraine—#Stop_War International Charitable Television Marathon (in person)
The International Charitable Marathon Concert Save Ukraine—#Stop_War aimed at supporting Ukraine will start at the TVP Polish television channel on March 27, 2022. The television marathon will be broadcast by about 20 TV channels of the world and by streaming platforms and social media. Invitees include Imagine Dragons, Nothing But Thieves, Fatboy Slim, Craig David, Eurovision winners Salvador Sobral and Netta, and others. As well as Ukrainian musicians and bands: Dakha Brakha, Ruslana, THE HARDKISS, Jamala, Go_A, MONATIK, Alyona Alyona, and others.
Additional events are planned and will be announced in due course. Stay tuned!
Please follow our updates at:
mediacenter.org.ua
twitter.com/CenterUkraine
t.me/lvivmediacenter
facebook.com/UkraineMediaCenter/
The Media Center will function as a co-working space from 10:00 AM to 8:00 PM.
Contact us at:
+38 067 652 91 97